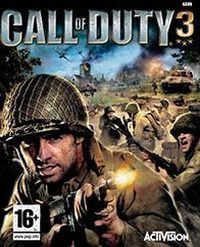 Game mode: single / multiplayer
Multiplayer mode: Internet
The third installment of the popular series of first-person shooters. The action of the game takes place during the World War II, more specifically during the Allies' invasion on the German's positions in Normandy. The game was developed by Treyarch, a studio that created the previous, console-only entry in the series – Call of Duty 2: Big Red One.
This time the American and British military will be accompanied by Canadian infantry, Polish tanks and French guerrillas. The action of the story campaign takes place during the summer 1944 in Normandy. The whole campaign is a single sequence – there are no menu screens and the player can freely select new missions.
The third installment of Call of Duty series is action packed. The developers added parachute drops, raids on enemy positions with SAS commandos and a full control over vehicles – including in multiplayer mode. During online battles players can take different roles – one of the players can control motorcycle or tank while another uses the weapons. Special commands (activated with a sequence of buttons) were added that can be used for ordering the character to quickly find cover, disarm traps or avoid enemy cannon fire on the battlefield.
The PC version was canceled in May 2006.
Age Rating
age requirements: 16+
System requirements
Microsoft Xbox 360
Uses: Xbox Live
Sony PlayStation 2
Uses: memory card 8 MB, Network Adaptor
Microsoft Xbox
Uses: Xbox Live