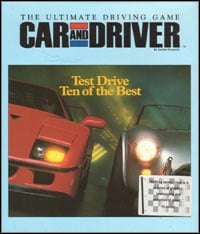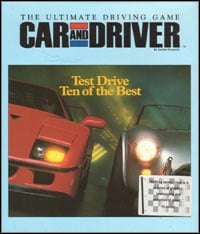 Car and Driver
PC
Car and Driver is a popular automotive magazine in the United States, which has been dealing with four wheels for years. On the basis of the license of this periodical, Electronic Arts decided to publish in 1992 a game of the genre of car racing.
Car and Driver

Release Date PC

20June1992
developer: Looking Glass Studios publisher: Electronic Arts Inc.

game language: English
Ecstasy on wheels. Test drive and race the car of your dreams in the premier driving simulation.
High perfomance cars: Ferrari F40, Porsche 959, Lamborghini Countach, Lotus Esprit Turbo, Toyota MR2, 1957 Ferrari Testarossa, Mercedes C11 prototype racer, Shelby Cobra, Corvette ZR1, Eagle Talon.
Challenging roads, racetracks and parking lots: California Highway 1, Arkansas 7, New York 97, Monterey Raceway, Dobbs Memorial Raceway, Autocross Course, San Dimas Mall Parking Lot, Oval Speedway, Drag Strip, EA Speedway.
Incredible technology:
* 3D polygon, gourad shading & bitmap overlays for unsurpassed realism
* High-resolution 256 colour VGA graphics
* Head-to-head option via network, modem or datalink
* 10 camera angles including analitycal replays
* Choose to go off-road or turn 180 degrees into oncoming traffic
Game mode: single player
User score: 5,5 / 10 based on 43 votes.
Age restrictions Car and Driver: Good for all ages.