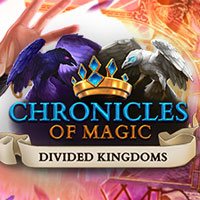 Chronicles of Magic: Divided Kingdoms
A HOPA adventure game developed by The House of Fables and Artifex Mundi. The players are taken to a fantasy universe divided into two warring kingdoms – Black and White. The story begins when a mysterious Black Knight kidnaps Nevin, a boy living in the forests of White Kingdom.
Adventure | fantasy | hidden objects | 2D | Polish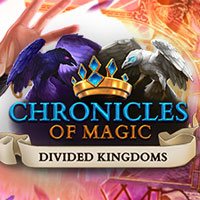 Chronicles of Magic: Divided Kingdoms is a HOPA (Hidden Object Puzzle Adventure) adventure game developed for PCs and mobile systems by The House of Fables and Artifex Mundi. The game is not a first title from the two studios – the developers are responsible for, among others, Eventide series.
Plot
A long, long time ago a certain fantasy universe has been divided into two twin kingdoms – Black and White – ruled by two brothers. To avoid conflicts, both Kings decided to create an alliance which was supposed to be consumed by sharing a ritual drink. Unfortunately, having drunk the potion, White King had fallen ill. With his final breath, White King managed to place a curse on Black Kingdom. From that moment, the sky over the kingdom has been obscured by clouds, while its inhabitants – unable to use magic. The incident led to a war, during which Black King died, and both countries were brought to the brink of utter destruction. After some time, White Kingdom managed to rebuild itself thanks to magic, but Black Kingdom continues to lie in ruin. Tired of the constant aggression from its vile inhabitants, Queen Mariette attempted to lift the curse plaguing the Black Kingdom. Unfortunately, her attempts were unsuccessful, but there is a legend which says that one day, a hero will appear who will manage to break the curse and bring back the peace.
Somewhere deep in the forests of White Kingdom lives Nevin, a boy who dreams of being this destined hero. One day, Nevin is kidnapped by a mysterious Black Knight. Nevin's mother, Gillian, embarks on a quest to pursue the kidnapper. The woman will have to face a lot of adversities and solve a wide range of complex puzzles to rescue her son and, further along the way, unite the two kingdoms.
Mechanics
The gameplay of Chronicles of Magic: Divided Kingdoms isn't very complicated. Similarly to previous titles from the same developers, the main heroine is tasked with finding items and solving puzzles that enable us to push the story forward. Moreover, the game contains various action sequences during which, for example, we avoid obstacles during a horse ride or recreate a sequence from a scroll to be able to throw a spell. In all, there are 33 action sequences and 17 locations in which we need to find hidden items from the list. The locations contain additional pick-ups such as chess pieces or Crow Statues (46 items in total).
Technical Aspects
Chronicles of Magic: Divided Kingdoms offers hand-drawn, colorful locations which are a mainstay of games developed by The House of Fables and Artifex Mundi. Even if the locations are static, they are made alive through simple yet eye-catching animations. The visuals are complemented by an atmospheric soundtrack.
Age Rating
age requirements: 12+