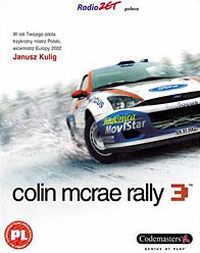 Colin McRae Rally 3
The third installment of the popular series of rally races. This time, the creators put emphasis on increasing the role of the driver, by introducing a plot plot. There was also an effort to better imitate the driving model and car behaviour during the rallies.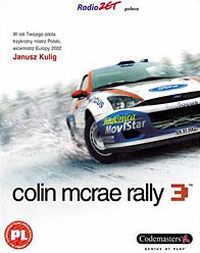 Behind the wheel of the your internationally famous Ford Focus RS WRC with your co-driver Nicky Grist ready to set the course alight as you race to become Champion. Rain, sleet, snow, and mist make all the difference to your visibility and the car's handling, especially when every secound counts. Test the limits of both your ability and your car as you hurtle through treacherous terrain and dangerous weather conditions to shave all-important milliseconds off the clock. Your co-driver Nicky Grist is personally pace-noting every stage of every race.
You are starting the race with a new 3 year contract under your belt to win a series of championships for Ford Rallye Sport. The World Championship is gruelling series of races across eight international rallies offering tarmac, gravel, snow, dirt, and rain-soaked road surfaces.
Each rally begins in the service area. The team's engineers perform the set-up requirements, adjusting the suspension, engine, chassis of your Focus, for the stages ahead. The engineers are preparing the car to practically optimum settings for the upcoming stages. However, as you are Colin McRae you may want to step in and make an inspection of their work and make manual adjustments.
When racing through Japan, Spain, Sweden, Greece and Australia, you haven't got time to admire the scenery. Take in what you can of the road ahead before your view is obscured once again.
Experience the 150 decisions a minute, and the teamwork that goes into actually being Colin McRae.
Similar games:
PEGI Rating
System requirements
Recommended:
Pentium 4 1.4 GHz
512MB RAM
64 MB graphic card
sound card compatible with DX9.0
150 MB HDD + wykorzystuje joystick
Uses:
memory card
steering wheel