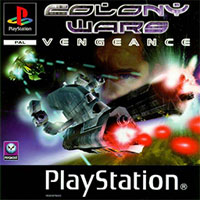 game release date for PS1:
05November1998
Colony Wars: Vengeance is a continuation of Colony Wars,a space combat simulator. Psygnosis Studio decided to return to the colonial conflict between LWS and the Earth Empire only a year after the release of the first game.
Plot
Colony Wars: Vengeance begins one hundred years after the events presented in the first game. We still focus on the armed conflict between the Earth Empire and the space colonies fighting for independence. According to the canonical ending, the League of Free Worlds fleet drove the Navy of the Empire up to the Solar System. In a fierce battle, however, the humans managed to defend their planet and force the League to retreat. However, the space-time tunnels connecting the Earth with other parts of the galaxy were destroyed. A lack of resources led to a civil war inside the Empire. The only thing that seems to keep the Earth's inhabitants in check now is the promise of the mysterious Kron, one of the leaders uniting the divided factions. He swore to take revenge on the League at all costs.
The second part of the game presents an interesting turn of events. The player is changing the sides of the conflict, this time offering their services to the Navy of the Earth Empire.
Mechanics
Most of the key mechanics from the original have been preserved in the sequel. We pilot one of several space ships and carry out missions commissioned by the command. Although most of them take place in space, the game has also introduced battles taking place on planets. Colony Wars: Vengeance also uses weapon types known from the first game: lasers, torpedoes, EMP, etc. Each weapon has different parameters and is intended for destroying the shield or destroying the ship's hull. For the first time, there are also enemy ships functioning as bosses.
The controls in Colony Wars: Vengeance are much smoother than in the original. Another new feature is the ability to upgrade combat machines as the game progresses. The pilot can decide for themselves which combat or transport elements need to be improved and, in the final stages of the campaign, pilot a truly great machine.
Like its predecessor, the plot can end in different ways. This time, however, it is limited to one positive ending and five "failures" that end the story when we get a critical failure in specific missions.
Similar games:
Age Rating
age requirements: everyone