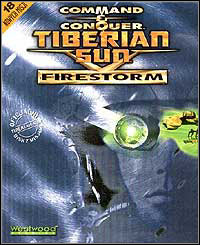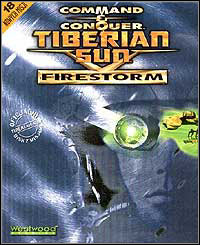 Command & Conquer: Tiberian Sun Firestorm
PC
An expansion pack for Command & Conquer: Tiberian Sun, and RTS developed by Westwood Studios.
This is Command & Conquer: Tiberian Sun expansion pack.
Command & Conquer: Tiberian Sun Firestorm

Release Date PC

07March2000
developer: Westwood Studios publisher: Westwood Studios Official website

game language: English
Command & Conquer: Tiberian Sun creators at Westwood Studios left some unfinished threads in that game's plot, thus giving the fans of the popular sci-fi real-time strategy series a reason to expect a continuation. They had to wait less than a year for the add-on. The Firestorm expansion not only continues the original story and adds new missions, but also brings along a slew of new features, including the fourth playable faction: CABAL (Computer Assisted Biologically Augmented Lifeform).
Plot
Command & Conquer: Tiberian Sun Firestorm takes the players back to the near future around the year 2030. After Kane's death, the Brotherhood of Nod lost its importance and gradually dissolved. However, the would-be leader of this organization, Anton Slavik, has the ambition to rebuild its strength. For this purpose, he resurrects the exquisitely crafted Artificial Intelligence the Brotherhood once created, called CABAL. Surprisingly, the AI chooses to ally with the GDI forces, which, after the loss of the Philadelphia space station, is struggling to stop the spread of the Tiberium and mutants. After creating a powerful army of cyborgs, CABAL unexpectedly proclaims war on both factions. GDI and the Nod Brotherhood must join forces to counter the new threat.
Gameplay
In single player, Firestorm introduces 18 new scenarios set on large-scale maps. The expansion also introduces several additional types of units, including self-propelled EMPs, mobile cloaking devices, Juggernaut mechs and even mobile war factories. For multiplayer gameplay enthusiasts there were 10 new diverse maps added.
In terms of audiovisuals, the add-on does not differ from what Command & Conquer: Tiberian Sun presented. Unlike the expansions to previous installments in the Command & Conquer series, Firestorm contains a slew of high-quality cutscenes, which has a positive impact on the quality of the final product.
Last updated on 25 August 2010
Game mode: single / multiplayer Multiplayer mode: Internet Player counter: 1 - 8
Media type: 2 CD
User score: 7,7 / 10 based on 215 votes.
PEGI rating Command & Conquer: Tiberian Sun Firestorm
Command & Conquer: Tiberian Sun Firestorm System requirements
Recommended:
Pentium II 266MHz
64MB RAM