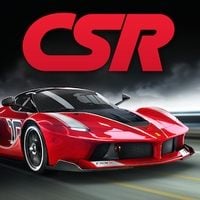 CSR Racing
A popular game simulating drag racing. In production, we sit behind the wheel of one of about a hundred vehicles, and while driving, our main task is to change gears smoothly. CSR Racing is available for free, as part of a free-to-play business model.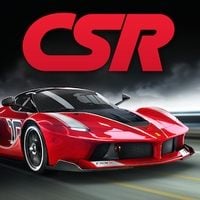 Game mode: single / multiplayer
CSR Racing is a free-to-play racing game developed by NaturalMotion, the devs of the Backbreaker series. This is one of the most popular title dedicated to drag racing - it has been downloaded over 100 million times.
Mechanics
In CSR Racing we take part in short races on a straight section of the road, during which our task is simply to develop the highest possible speed. However, we do not have full control over the machine and we can only perform certain tasks. The screen not only shows a view from behind the windscreen but also the steering wheel with gear shifting controls. Success in subsequent competitions depends on entering higher gears at the right moments for the car to smoothly gain speed. In addition, before starting, we try to maintain proper engine revs by pressing the accelerator. We don't have to drive, avoid obstacles, etc. while playing, but it doesn't mean that the game is easy and boring, because virtual enemies do a great job behind the wheel and don't forgive mistakes.
In the course of the struggle we gain money to improve our existing cars and buy new ones. This enables us to buy a better engine, add a turbocharger or replace the gearbox. It is also possible to influence the appearance of the car. Not without significance is also the fact that the developers have prepared about a hundred licensed cars from manufacturers such as Ferrari, McLaren, Bugatti, Aston Martin, Hennessey and Koenigsegg.
Technical aspects
CSR Racing is a great-looking three-dimensional game. The car models were made with attention to detail, and the sides of the routes are full of onlookers. Of course, in order to fully admire the quality of this application, it is necessary to have a sufficiently powerful hardware.
Age Rating
age requirements: everyone