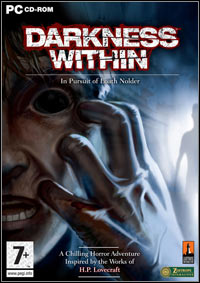 Darkness Within: In Pursuit of Loath Nolder
PC
Darkness Within: In Pursuit of Loath Nolder of the Turkish studio Zoetrope Interactive is a thriller in which we see the world from the perspective of the first person. The authors drew their greatest inspiration from the work of H.P.
Adventure | point-and-click | books | horror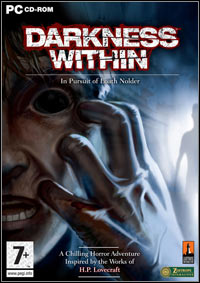 game language: English
game release date for PC:
27November2007
Loath Nolder: Labores Solis which is the first of a series of three games, is a panoramic first person 3D adventure/horror thriller game which takes place in an imaginary Lovecraftian place called Hilltown. The story of the game was written with the help of the impressions of the great writer H.P. Lovecraft's works. So players will encounter a dark and frightening world to interact with, and sinister characters to speak with or beware of. Thus, the game's environment and characters were designed appropriately for the series' main objective which is to give fear, psychological pressure and most important of all, a Lovecraftian feeling to the gamer. This Lovecraftian environment is enriched with a deep and immersing story, action sequences, cinematics and music.
* Various different places to see: In order to find clues and solve events, player travels through many different places including shiny and vivid outdoors, dark gloomy and mysterious underground passages, an old sinister mansion, strange ruins, and an old witch cemetery.
* Gruesome and beautiful dynamic environments: Life is scattered around the game world. Player can always catch a small detail to feel it. All environments are completed with sky, water, fog and aerial events like rain and snow. Lit with flares, torches, sun shine and moon light. Living things around, make the places lived and sometimes dreadful.
* Interactive and engaging puzzles: Players should generate different ways to get clues out of objects and situations, and solve the puzzles which are blended seamlessly into the story. Clicking, dragging, rotating, using, combining and zooming are all required.
* An all new thinking system, firstly seen in the adventure genre: All clues and thoughts should be linked into each other in some way to reach other clues. Player should also consider how to gain ideas from items, people, situations and environment.
* Thrilling, dreadful and interesting storyline: With the inspiration of the great writer H.P. Lovecraft's works and the true myths and legends of the old earth, Loath Nolder Labores Solis invites you to play the role of the detective Howard E. Loreid who will face unimaginable dire truths which will soon fall down over the mankind. And he must (as a duty or wish?) find Loath Nolder or shun him.
* Hectic and surprising game process: Unexpected events and fear moments keep the players on their toes.
* Feeling and hearing with your character: Gameplay vision changes according to the main character's mood and psychological condition. His reactions against the events are both seen and heard.
* Dark and atmospheric music and realistic sound effects: Compelling soundtrack and atmospheric music completed with disturbing surround sound effects and ambient sounds.
* Friendly and simple user interface: Click to interact, pick, leave, open and combine. Drag to move items, objects and unify thoughts.

Game score 7.43 / 10 calculated out of 204 players' votes.
PEGI Rating
System requirements
PC / Windows
Recommended: Pentium 4 1.5 GHz, 1 GB RAM, graphic card 128 MB (GeForce 6600 or better), 1.1 GB HDD, Windows 2000/XP/Vista