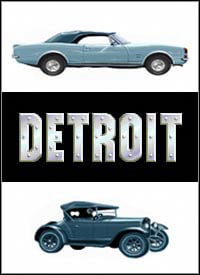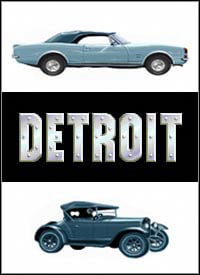 Detroit (1993)
PC
Extremely complex economic strategy, in which you play the role of a passenger car manufacturer. The game covers all aspects related to auto-business, designing new models, inventing the necessary accessories and, of course, selling our products.
Detroit (1993)

Release Date PC

11December1993
developer: Impressions Games publisher: Sierra

game language: English
If you're a bit interested in cars, you probably know that Detroit is the American capital of the automotive industry. It was there that Henry Ford founded his first factory in 1903, and several years later the world-famous tycoon Chrysler was located. It's hard to get a better name for a game in which your task will be to create an automotive empire.
Your career will begin in 1908 and last 100 years. You can locate your first factory and office anywhere on earth, but I don't advise you to do it in Africa - the natives will not be enthusiastic about this kind of technical wonders. You start with one ready-made wagon, others you will have to design by yourself. When producing new cars, it is worth considering their purpose - it is hard for an average family of a few people to buy an exclusive car worth thousands of dollars. Proper use of the initial capital is the key to success in the game. Without a quick cash inflow, you will not be able to research new technologies or finance other expenses, such as advertising. Cars will sell differently depending on the trends and preferences of the people living in the region. A large number of reports will help you make decisions, if you have a printer, you will also be able to transfer them to paper. It is worth noting that the game is influenced by historical events. During the First and Second World Wars in Europe lorries will descend superbly, there is no danger in the United States, so it is also possible to invest in sports cars. In addition to you, three computer opponents will participate in the game. If there are some economic masochists living in your neighborhood, you can invite them to play. The game can be played by four people at the same time, all at the same computer.
Although Detroit does not have a stunning audio-visual setting, it is a really interesting product. Due to the high degree of complication, it should appeal to all maniacs of hardcore economic games. Mastering all the rules connected with auto-business may take a lot of time, but when we finally get to know all the nuances, Detroit will pay us back with more than a dozen or even several dozen days of fun.
Please let us know if you have any comments or suggestions regarding this description.
Game mode: single / multiplayer Multiplayer mode:
User score: 7,8 / 10 based on 37 votes.
Age restrictions Detroit (1993): Good for all ages.
Detroit (1993) System requirements
Recommended:
PC 386DX 33MHz
1MB RAM
VGA