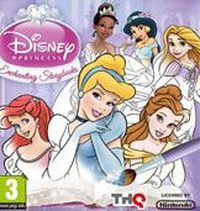 Disney Princess: Enchanting Storybooks
A set of mini-games for the youngest, in which the main role is played by the heroines of Disney's animated films. Children can draw, fill in with virtual illustrations and play with a variety of logical, arcade and musical games.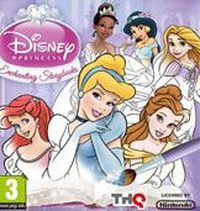 Enter the magical world of Ariel, Belle, Cinderella, Jasmine, Rapunzel and Tiana, journeying into their stories with Disney Princess: Enchanting Storybooks.
Their unforgettable stories come to life as never before when players use the uDraw GameTablet stylus like a magic brush and bring the tales to life by completing a variety of drawing, coloring and musical activities.
Featured in the game are more than ten types of play, such as magic search, spot-the-difference, follow-the-rhythm, musical tune-up, tilt-a-maze, and even coloring book pages that narrate the timeless tales aloud.
Not only is this the first uDraw game created especially for girls, itís the first time Disney fans will meet Opal, the Keeper of Color, to help re-color the Enchanting Storybooks.
Favorite Disney Princesses - Disney Princess: Enchanting Storybooks features six beloved princesses Ė Ariel from The Little Mermaid, Belle from Beauty and the Beast, Cinderella, Jasmine from Aladdin,
Enchanting Engagements - Bring color into the storybook worlds with activities like number-painting, sticker scene-creation, magic search, unique tilt-painting games (Wii only) and coloring book pages.
Unlockable Bonus Features - Progression through the storybooks unlocks features like bonus Snow White coloring book pages and new creative magical tools such as Belleís Rose Petal Crayon and Rapunzelís Water-color brush.
Create, Save & Print - Every time you enter the magical pages, youíll create something new. Disney Princess: Enchanting Storybooks lets you save and print your creations using an SD card on the Wii. Itís easy to share the magic!
Similar games:
PEGI Rating
System requirements
Nintendo Wii
Uses: tablet uDraw