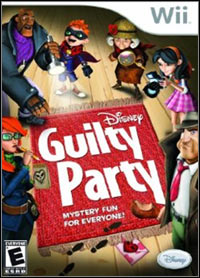 Disney's Guilty Party
Wii
An adventure detective game for the whole family. The production tells the story of a family of detectives whose task is to solve a series of criminal cases and riddles concerning their main opponent, Mrs. Valentine.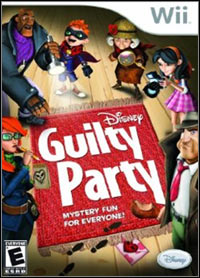 Multiplayer mode: common screen, players: 1-4

game language: English
game release date for Wii:
31August2010
Guilty Party tells the thrilling tale of the Dickens Detective Agency as they solve crimes set in motion by the master criminal known as Mr. Valentine. Up to four players can solve crimes in a variety of locations all over the world to unlock the secrets of Mr. Valentine's grand scheme.
Guilty Party offers both cooperative and competitive gameplay for all ages. Players choose a detective and take turns exploring the environment to uncover clues to discover the culprit's identity. Each new clue is acquired by playing a unique mini-game based on detective tasks. When players have enough evidence, they can accuse their prime suspect and try to solve the case.
Players step into the shoes of the Dickens family and work together to explore crime scenes and play mini-games to collect clues and interrogate suspects. Guilty Party transforms the Wii Remote into classic detective tools: a magnifying glass, a flashlight, a lock-pick, a fingerprint kit, and more. Players then discuss and piece together the clues in their detective notebooks to deduce the identity of the culprit. It takes more than quick reflexes to win, it also takes quick wits.
The Dickens family tracks Mr. Valentine across the globe, from a high-speed train to a leaky aquarium to many other locations to solve new mysteries. Once the mysteries are solved, players can play again with a new set of clues, suspects and mini-games -- and a different culprit every time. Players can even split into teams and compete to see who can solve a mystery first.
Guilty Party is the first new franchise developed by Wideload Games for Disney Interactive Studios. The game's characters and locations are inspired by classic detective lore, with the storytelling, unique humor and art style that have distinguished Wideload Games. Guilty Party will have players applying logic to solve the mysteries while laughing at the wacky cast of characters, situations and animated scenes.

Expectations: 8.0 / 10 calculated out of 2 players' votes.
Age Rating
age requirements: 12+