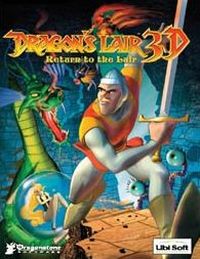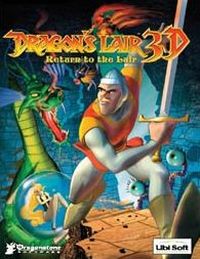 Dragon's Lair 3D: Return to the Lair
Dragon's Lair 3D is, as the title suggests, the successor to Dragon's Lair 1 and 2 arcade games, known and very popular a few years ago, this time with a new, fully three-dimensional graphics.
Adventure | TPP | fantasy | action adventure
The Story
Become one with Dirk the Daring, whose intentions are always good and honest, as you step into a marvelous world of fully animated dungeons, dragons, castle traps, wizards, potions and spells. It is the detailed retelling of the tale in which Singe kidnapped Daphne, only this time you are in full control of Dirk's and Daphne's destiny. It's up to Dirk to rescue the fair maiden by treading carefully along the darkened path towards the dreaded Dragon's Lair.
Challenges arise around every corner, so be alert on your quest, brave knight. Avoid the strange tentacles that rise from the moat when you cross the drawbridge and watch out as flying books and jumping bookcases in the library that try to smack you down. Make a wrong move and the floor might disappear, and you may find a door that's not what it appears and you'd better run…quickly!
Lead on, brave adventurer, your quest awaits…
The Game
The player will assume the original role as Dirk the Daring, on a valiant quest to rescue the fair princess, Daphne from the menacing clutches of Singe, the Dragon. To triumph, you must fight your way through the castle of the dark wizard, and overcome new monsters and obstacles that are lurking in the shadows, awaiting and carefully anticipating your every move.
Dragon's Lair 3D (TM) will be using most of your favorite creatures featured in the original Dragon's Lair (R) arcade game, as well as some surprising new characters to challenge you in your quest. As a special bonus, some of these new characters in Dragon's Lair 3D (TM) are being newly designed by Don Bluth.
The artist and animator Bluth has become an almost legendary figure in the genre of animated film with his most famous works include Titan A.E., An American Tail, The Land Before Time and Pete's Dragon, just to name a few.
Last updated on 10 December 2007
Game mode: single player
User score: 3,5 / 10 based on 41 votes.
PEGI rating Dragon's Lair 3D: Return to the Lair
Dragon's Lair 3D: Return to the Lair System requirements
Recommended:
Processor Pentium III 800 MHz
128 MB RAM
16 MB graphic card
1.5 GB HDD