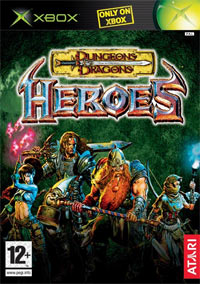 Dungeons & Dragons: Heroes
XBOX
Dungeons & Dragons: Heroes is another action-RPG game set in the universe of Dungeons & Dragons. The work of Atari's programmers is reminiscent of the legendary Diablo, as well as Baldur's Gate: Dark Alliance.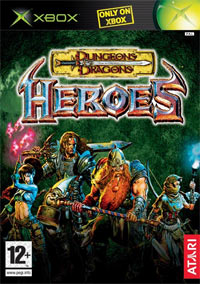 Game mode: single / multiplayer
Multiplayer mode: common screen, players: 1-4

game language: English
game release date for XBOX:
17September2003
Delivering incredible, addictive gameplay for up to four players, Dungeons & Dragons Heroes is the first Dungeons & Dragons-branded experience created expressly for the Xbox video game system. Dungeons & Dragons Heroes was built from the ground up to appeal to diehard D&D fans, as well as gamers who desire a genre-defining action/RPG. Journey through a world filled with magic and monsters, treasures and traps, good and evil a world unto itself where heroes are made not born. Take on perilous quests through never-before-seen planes of existence and carve a path to righteousness. Conquer dungeons, search for gemstones, fight monsters, improve your skills and more as one of four distinct Hero characters: Fighter,Wizard, Cleric or Thief. Immediately immerse yourself in solo games or play cooperatively with up to 4 players. Dungeons & Dragons: Heroes gives you a chance to taste victory as only a true Hero can.
* Experience an epic battle of good versus evil set in the world's most compelling fantasy setting Dungeons & Dragons.
* Play as one of four distinct Hero characters: Fighter, Wizard, Cleric or Rogue.
* Join forces with up to three other Heroes on a noble quest against a mighty evil.
* Discover the unique skills that each team member possesses. Then, gain experience to learn new traits and attacks.
* Roam through seven distinct environments filled with fiends and classic Dungeons & Dragons monsters.
* Block, parry and deflect opponent's blows in lethal close-range melee combat.
* Use an innovative control system that lets players customize attacks and spells... on the fly!
* Battle authentic Dungeons & Dragons monsters.
* Customize characters with armor, weapons and special items
* Enhance character powers with found or purchased armor and magical artifacts
* Collect soul shards to unleash incredible powers of ancestral weapons
* Sell or buy weapons, spells and other items, or exchange them with other Heroes to maximize a party's powers
* Master new spells to heal wounded party members or harm dangerous enemies
* Dynamic Camera zoom the camera in for individual battles or pull out to survey wider surroundings
* Experience a new level of adventure with Dolby Digital 5.1 soundBrings D&D 3rd Edition skills, feats and character building systems to life
* Battle the classic and the latest D&D monsters!
* Play right away through the streamlined controller interface
* Elevate your Hero's power with gemstones and rune stones
* Play as one of four distinct Hero characters: Fighter, Wizard, Cleric or Rogue in solo games or 4-person cooperative games
* Explore visually stunning 3-D worlds filled with secrets, bonuses and rare items
PEGI Rating