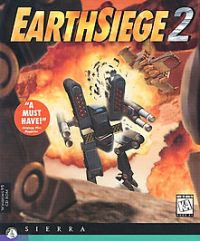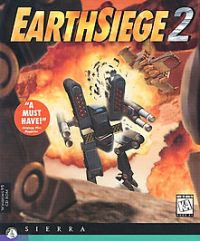 EarthSiege 2
PC
Continuation of the dynamic action game with powerful mosses in the lead role.
EarthSiege 2

Release Date PC

19March1996
developer: Dynamix / Jeff Tunnell Productions publisher: Sierra

game language: English
Continuation of Metaltech: Earthsiege, a game published in 1994, about a conflict between people and the rebellious Cybrid race, fought with the help of powerful mosses. The same duo is responsible for the continuation of this dynamic action game: Dynamix developers and series publisher, Sierra On-Line.
After the events known from the original, peace reigned on Earth again - unfortunately not for long. Responsible for the creation of the rebellious cyborg race, the Prometheus project built a secret base on the moon after the disaster, where mass production of Cybrids began in secret, and work to improve the combat robots for the ultimate invasion of the blue planet. Luckily, people did not idle either, enriching the popular HERC-e with completely new technologies, giving an advantage in the direct fight. Now both sides will have the opportunity to use their strength in practice, because another great conflict has just begun.
As a member of the earthly resistance movement, the game once again sits in the cockpit of a powerful moss and moves on to another battle against a dangerous opponent. On the battlefield, however, we are not completely alone. Just like in Metaltech: EarthSiege we are part of a team of four and during the fight we often use the help of wings. As the action progresses, our team members gain experience and their effectiveness grows. Known from the first part of the machine gained even more modern armament and completely new possibilities, such as flying. Unlike the original, lost mosses on the battlefield and destroyed buildings leave behind raw materials and weapons that can be reused.
Players have more than 50 new missions taking place in the Americas, Europe, Asia, Australia, Antarctica and the Moon. This results in an even greater variety of environments, which, thanks to the use of an improved graphical engine, look much better than the original. The campaign is developing non-linearly and its progress depends on the results obtained by us in previous missions. It also causes that our possible defeat in one of the scenarios does not end the game, but only affects its further course.
Please let us know if you have any comments or suggestions regarding this description.
Game mode: single player
Media type: 1 CD
User score: 7,9 / 10 based on 32 votes.
Age restrictions EarthSiege 2: 12+
EarthSiege 2 System requirements
Recommended:
486DX2 66 MHz
8 MB RAM
Windows 3.x/95