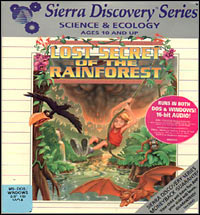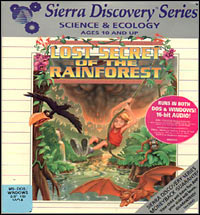 EcoQuest 2: Lost Secret of the Rainforest
PC
The second and last part of the educational adventure game series Sierra. Once again we play the role of Adam Greene, who this time ends up in the Amazon jungle and will try to solve all the problems of the animals inhabiting it alone.
EcoQuest 2: Lost Secret of the Rainforest

Release Date PC

22March1993
Only you can save the rainforest from destruction
Lost Secret of the Rainforest is a trek through lush jungles, mysterious caverns, and ancient ruins atop craggy, mist-covered peaks. This Sierra adventure requires that you defeat the real-life dangers threatening the rainforests of South America.
As you explore this exotic ecosystem, you will encounter endangered animal species, rare flora, and remote native cultures. Your challenge is to prevent their extinction by poachers and other outlaws who would destroy the environment to satisfy their greed. If you're successful, you will learn the amazing truth that lies behind the enigmatic face of the rainforest.
Lost Secret of the Rainforest is based on scientifically accurate information. It takes you to one of the most exciting worlds ever presented in an educational game. As in EcoQuest I: The Search for Cetus, you will once again be adventuring with Adam.
EcoQuest bridges the gap between education and entertainment with considerable style. - Technology & Learning
PARENTS!
* An entertaining, educational science learning adventure for kids 10 and up.
* Created with assistance of leading environmental organizations.
* Extensive educational value covering botany, zoology, and anthropology.
* On-screen Encoder reveals, records, and prints out information about the plants, animals, and native peoples you discover.
Last updated on 21 November 2014
Game mode: single player
Age restrictions EcoQuest 2: Lost Secret of the Rainforest: Good for all ages.
EcoQuest 2: Lost Secret of the Rainforest System requirements
Recommended:
PC 386 25MHz
2MB RAM
VGA