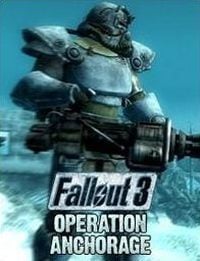 Operation Anchorage is the first official DLC for Fallout 3. It was developed by Bethesda Softworks, known mainly for The Elder Scrolls series. Operation Anchorage requires the original Fallout 3 to work.
The expansion offers four short missions in which we help the rebel members of The Brotherhood of Steel to get to the pre-war vault. In order to achieve this, we will have to go through training in virtual reality that takes us to the snowy Alaska and presents the attack of the Chinese military.
In order to get access to the new quest, all you have to do is to respond to the radio signal with the request for help, and then go to the designated place. The missions may be accomplished on any difficulty level for their difficulty level is automatically matched to the capabilities of the given character. As a token of gratitude, the players get a nice set of weapons and equipment (i.e. incredibly powerful version of Power Armor).
The virtual reality is governed by its own rules. There are no stimpacks or ammo; we may only restock and regenerate in special warehouses. The new story is mainly combat-oriented and contains only few elements such as dialogues. The graphics of the expansion deserve a praise for the awesomely designed Alaska.
Similar games:
PEGI Rating
System requirements
PC / Windows
Recommended: Core 2 Duo 2.8 GHz, 2 GB RAM, graphic card 512 MB (GeForce 8800 or better), Windows XP/Vista
Microsoft Xbox 360
Uses: Xbox Live
Sony PlayStation 3
Uses: PlayStation Network