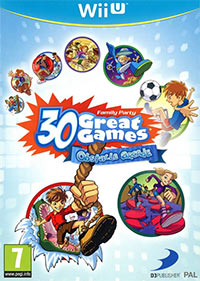 Family Party: 30 Great Games Obstacle Arcade
WiiU
Another set of mini games for the whole family released on the Nintendo console. This time the whole is adapted to the capabilities of Wii U and uses a new controller - GamePad - and allows you to have fun on both a shared and split screen.
Party | casual | social | multiplayer | family | Nintendo exclusive titles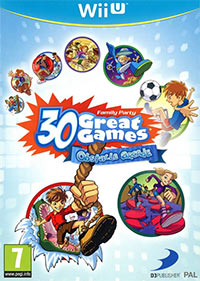 Game mode: single / multiplayer
Multiplayer mode: split screen / common screen, players: 1-4

game language: English
game release date for WiiU:
30November2012
Family Party: 30 Great Games Obstacle Arcade brings home wacky and wild competitions for kids of all ages. Exclusively for the Wii U™ system from Nintendo, Obstacle Arcade lets players participate in over 30 party games specifically designed for multiplayer. Delivering an unmatched combination of variety and value, it features dozens of hysterical obstacle courses, popular sporting events, and arcade and brain challenges.
Family Party: 30 Great Games Obstacle Arcade takes players to "Family Party Land", a magical island loaded with a combination of familiar games and over-the-top challenges. Dodge barrels, ride horses, skydive, shoot rockets, kick goals, and more. Rule the island by earning medals and high scores, and unlocking new games.
FEATURES:
Over 30 fun party games that highlight the all-new Wii U™ system!
Use the all-new Wii U™ GamePad in special 1-on-3 multiplayer challenges
Aim and shoot with the Wii U™ GamePad to kick soccer balls or to act as a game master in hidden card games and obstacle course challenges.
Tilt the Wii U™ GamePad to roll giant balls, to fly through space in zero gravity, or to block projectiles as a shield
Track high scores and game progress on the Wii U™ GamePad's display
Loaded with fun games custom made for family play, including tons of extreme obstacle courses, sports, and arcade game challenges
Over the top obstacles: Giant bouncing balls, alligator jumping, crazy hurdles, jetpacks vs. rocket launchers, and other thrills!
Sports: Everything from air hockey to eating contests to rodeo
Fun for the whole family: Arcade games, card games, and more
An unmatched combination of variety and value!
All games designed for 4-player multiplayer and all-ages family competition
Win trophies and achieve high scores to unlock new games and characters
Similar games:
PEGI Rating