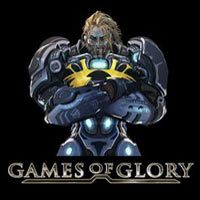 Game mode: multiplayer
Multiplayer mode: Internet
Games of Glory is an online science fiction team strategy game for PC and PS4 that introduces several fresh solutions to the popular MOBA genre. It was developed by the debuting Swedish-French studio, Lightbulb Crew, that employs both experienced programmers and young enthusiasts.
Plot
The action takes place in a vast science fiction universe at the center of which lies in the city-state of Arkashan. From among many races, the most prominent ones are the so-called Kshanti, the effect of genetic and technological evolution of humans. To prevent further escalation of conflict and senseless bloodshed between these factions, the eponymous Games of Glory were created. When they are held, two five-people teams meet in special arenas to fight epic battles for fame and glory.
Mechanics
The players assume the role of a group of clones that belong to five different classes and offer diverse skills. Tank is a typical defensive unit that can absorb a lot of damage. Assassins and Scouts are offensive characters with different combat abilities. Carriers are the weakest of classes but develops the most in the course of a match. The set is complemented by Support, a typical medic and support unit in battle. Every clone possess a large variety of various equipment, and the great customization options allow us to create our own unique character. Teams choose their captain who sets the tactics and assigns tasks within a given group. Before combat, we also decide what weapons we want to use. The selection is great and includes modern lasers or rocket launchers as well as classical melee weapons that become useful in hand-to-hand combat. Every character can have two independent weapon sets but this choice is not permanent as we can modify it in battle to surprise the enemy.
Competition takes place in several different modes that are different in terms of map content, victory conditions, and prizes. The choice of the mode is determined by the map we selected. The key to victory is skillful cooperation within a team, while our primary task is to eliminate enemy forces and destroy the opponents' main building (and defending our own). It is made more difficult by special force fields that protect structures or the necessity of taking over specific points on the map. The prizes and gold we win while playing can be then spent on enhancing our clone.
Technical aspects
Starting from the typical MOBA mechanics, the developers at Lightbulb Crew managed to combine elements of many genres, including strategy, shooter, and hack 'n' slash games. They also put great emphasis on social options and developing their production based on its players' behavior and feedback. Games of Glory for PC and PS4 was designed primarily with e-sport in mind. The participants can found their own clubs and assume various roles within them, such as a player, a tournament organizer, or a team manager. The game features relatively raw science fiction visual style.
Similar games:

Genesis
PEGI Rating
System requirements
Minimum: Intel Core 2 Duo 3.0 GHz/AMD Athlon 64 X2 6400+ 3.2 GHz, 4 GB RAM, graphic card 512 MB GeForce GTX 260/Radeon HD 5670 or better, 3 GB HDD, Windows 7/8/8.1/10
Recommended: Intel Core i5-3470 3.2 GHz/AMD FX-6300 3.5 GHz, 8 GB RAM, graphic card 2 GB GeForce GTX 660/Radeon HD 7870 or better, 3 GB HDD, Windows 7/8/8.1/10