GBA Video Games21
Game Boy Advance is the 6th generation portable console from Nintendo, a successor to Game Boy Color and the last device from the highly popular Game Boy family. It was released in North America and Europe in June 2001. GBA is one of the very few Nintendo's consoles that managed to get popularity even in such "exotic" regions of the world as Poland. It was succeeded by Nintendo Dual Screen in 2004.

Charlie and the Chocolate Factory (GBA)
Action 11 July 2005
Charlie and the Chocolate Factory is an action adventure game based on a cinematic screening (directed by Tim Burton and with John Depp in the lead role) of Roald Dahl's classic book of the same title.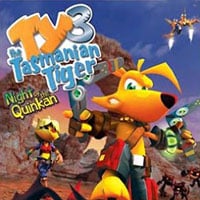 Ty the Tasmanian Tiger 3: Night of the Quinkan (GBA)
Arcade 01 November 2005
The next, third installment of a series of three-dimensional platform-arcade games with a nice tasman tiger in the lead role. The title Ty ends up in his hometown of Burramudgee plunged into chaos by the Quinkans - creatures that he defeated not so long ago.

Tom and Jerry Tales (GBA)
Arcade 07 November 2006
Dynamic arcade game, in which we take control over the title rodent. We try to make Tom's male cat's life unpleasant by preparing various traps.

Hot Wheels Stunt Track Challenge (GBA)
Racing 10 November 2004
Another game from THQ's series, in which the player sits behind the wheel of one of the Hot Wheels cars. As the title indicates, it is mainly based on performing crazy acrobatics.

Xevious (Classic NES Series) (GBA)
Arcade 02 June 2004
Xevious is a classic shooter, which in 1982 was prepared for the popular platforms of the time. Twenty-five years after the release of this item, it was decided to refresh it.