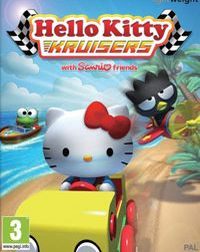 Game mode: single / multiplayer
Multiplayer mode: Internet / split screen, players: 1-4
Hello Kitty Kruisers is a three-dimensional arcade racing game, in which characters known from the Hello Kitty animated series are placed under the control of the players. The gameplay resembles that of the popular Mario Kart series. Scarab Entertainment, Bergsala Lightweight LLC and Rising Star Games are responsible for creating the title.
Mechanics
In Hello Kitty Kruisers we observe the action from behind the hero's back. The game has a strong arcade character. We drive ridiculous vehicles (most often resembling go-karts, but there are also other vehicles, including floating and flying ones) across colorful routes, trying to reach the finish line first. On the tracks you can also find a variety of obstacles and items that affect the game - whether by boosting us, giving our driver additional skills, or hindering the lives of our rivals. Players have at their disposal several heroes and vehicles, as well as a couple of routes in different variants.
Game modes
Hello Kitty Kruisers enables us to play solo or in the four-player multiplayer mode - in the case of mobile platforms it is based on the Internet, while on WiiU and Switch can also play with our friends locally, on a split-screen.
Technical aspects
Hello Kitty Kruisers is powered by the Unity engine. The visuals are three-dimensional and full of intense colors, appealing to the youngest players, but at the same time, it is technologically simple. On mobile versions, texture and world geometry simplifications go much further.
Age Rating
age requirements: everyone