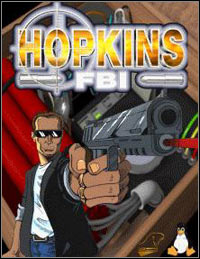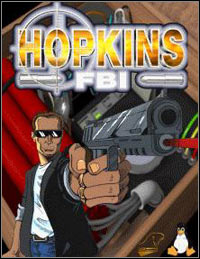 Hopkins FBI
PC
A detective adventure with a point-n-click interface. As a ruthless FBI agent, you must find Bernie Berkson, a dangerous criminal, who escaped straight from the execution site on an electric chair.
Hopkins FBI

Release Date PC

16July1998
developer: MP Entertainment publisher: MP Entertainment Official website

game language: English
A criminal organisation, headed by the infamous terrorist Bernie Berckson, gained possession of two nuclear missiles, threatening the US government. They stated that if their demands were not met, they would launch them against civilian targets.
As the US government stubbornly refused to negotiate, the two missiles were launched on California causing untold casualties.
And two years later the leader of the criminal organisation, Bernie Berckson, was captured by Special Agent Hopkins.
Sentenced to death, Bernie Berckson was electrocuted twice. But, remaining inexplicably alive, he finally managed to escape.
Bernie Berckson is leading a new criminal organisation. As Special Agent HOPKINS you are in charge to find and arrest him as anyone belonging to its gang.
You'll be helped in your mission by Samantha Collins, who is both your girlfriend and another great agent of FBI.
HOPKINS FBI is a well produced interactive fiction. Having a great story line it gives to the player, who leads an investigation as Special Agent HOPKINS, the excitement of a thriller. Suspense, fear, humour (sometimes morbid humour) are omnipresent.
Drawn by cartoon specialists according to the rule book they were scanned and meticulously retouched frame by frame to produce high-quality scenes. A very special care was taken to realise the game's introduction and final scenes.
Highly detailed, with very studied camera movements, extremely realistic 3D scenes leading the player by the airs as under the seas give him incomparable sensations. Fluid full screen SVGA 3D scenes were realised without any perceptible quality loss by the use of an unique compression algorithm.
First hand drawn by a famous strip cartoonist, Thierry Ségur, they were scanned then retouched and coloured on computer by an international graphist team. They give to the player an uninterrupted pleasure of discovery, leading him from HOPKINS's apartment to a secret submarine base, going through such different places as the FBI headquarters, the very exotic and mysterious Condor Island, an hidden universe where the dead can talk, and so on...
Features more than:
50 Characters,
100 Places,
400 MB of Cinematic scenes,
1000 Scenery animation ...
Last updated on 10 December 2007
Game mode: single player
Media type: 1 CD
User score: 8,2 / 10 based on 359 votes.
Age restrictions Hopkins FBI: 16+
Hopkins FBI System requirements
Recommended:
Pentium 233MHz
16MB RAM