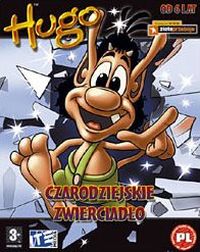 Hugo: The Evil Mirror
Hugo: The Magical Mirror is an arcade game created for the youngest, produced and published by ITE Media APS. The title character, a friendly troll, is imprisoned in the mirror of the evil witch Scylla. The player's task is to help him get out of captivity and safely return home.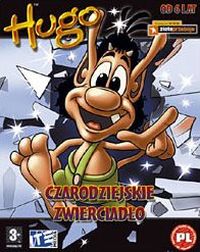 Having just barely survived his previous quest in Black Diamond Fever, Hugo the Troll is back in yet another exciting adventure! Somewhere in the Tricky Troll forest the evil witch Scylla and her loyal companion Don Croco is trying to figure out a way to capture Hugolina and ruin the Hugo family. By accident Don Croco drops a tray containing some glasses and when Scylla looks at the broken glass she smiles - she has come up with the perfect evil planů
Scylla surprises the Hugo family in their hut and hit Hugo on the head with a mirror.The mirror does not break but Hugo has been caught in the mirror by an evil spell! Scylla crushes the mirror and scatters the three mirror pieces throughout the Tricky Troll forest. Hugo has been captured and the only way to save him and to free Hugolina is to find the three mirror pieces.
The game features an impressive 60 levels divided into three worlds, with nasty enemies guarding each world. Use the freeze-gun to stun the baddies into ice cubes and push them over the edges to defeat the monsters inside. Some of the monsters have shields to protect themselves, and needs to be frozen from behind.You can also combine ice cubes with frozen monsters to reveal even bigger and nastier monsters with better power-ups.
Along the adventure you can enhance your speed by finding running shoes, and finding a snow flake upgrades the freeze-gun to perform even better. Finding a star reveals a level-code enabling you to restart the game from the position where you found it.
The Evil Mirror is filled with many interesting power-ups and with its three levels of difficulty the game will ensure both newcomers and experienced Game Boy players many hours of fun and action with Hugo and his children - if you take upon you this daring quest!
PEGI Rating
System requirements
Recommended:
Pentium 166 MHz
16 MB RAM
graphic card compatible with DirectX
Windows 9x/ME/2000/XP