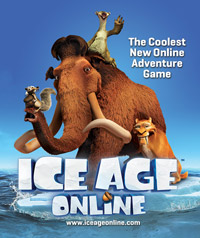 Ice Age Online
WWW
Ice Age Online is a browser game created under the license of films from the Glacial Age series. The player's main task is to find lost animals and create a dream hideout for them from objects found along the way.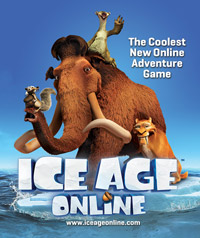 game language: English
game release date for WWW:
28June2012
Play Ice Age Online, the coolest free-to-play game since the last ice age!
In Ice Age Online, Manny, Sid and Diego have found the perfect spot to survive the winter. It is truly a cozy and comfy sanctuary. Experience the thrilling free-to-play fun by creating and customizing your own sloth, building your sloth's Ice Age camp and adventuring through action-packed game levels.
Your Uncle Sid has told you so many tales of his adventures that you can hardly wait to set off on your own Ice Age Online adventures. Well, the wait is finally over ... jump into the world of Ice Age Online today to start your adventure.
But, what's this? Your herd was caught off guard and separated by a horrible volcanic eruption on their way to the Ice Age Online adventure paradise. Even Sid has gone missing!
Now it's up to you to show the whole world of Ice Age Online just how brave your little sloth can be. Save your entire herd and your Uncle Sid in Ice Age Online!
Ice Age Online: Fun for the whole family
You feel totally at home exploring the free-to-play universe of Ice Age Online! It doesn't matter if you prefer playing action-packed games or taking care of your herd, Ice Age Online has what you're looking for.
Ice Age Online: Filled with jump 'n' run action
Fast-paced platform action is waiting for you in Ice Age Online. All you have to do is lead your sloth through diverse free-to-play jump 'n' run game levels. On your way, gather as many acorns, foods and construction materials as you can, and don't forget to keep your eyes peeled for lost members of your herd. Head's up, though - there are mean Ice Age animals out there who will try to steal your food. So, be on your toes!
Ice Age Online: Create your own camp
At the beginning, your Ice Age Online camp will be very minimalist. That will all change once you start saving your herd members. Give them food and shelter to make your herd happy and your camp will be paradise before you know it. Invite other players to visit your camp and talk to them via the chat. Challenging competitions and enjoyable tasks are waiting for you in Ice Age Online.
Don't miss out on the ice age fun that this free-to-play game has to offer. Join your Ice Age Online herd today!

Expectations: 6.8 / 10 calculated out of 5 players' votes.
Age Rating
age requirements: everyone