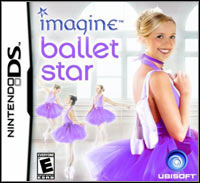 Imagine Ballet Dancer
NDS
Imagine Ballet Star
Arcade game allowing you to play the role of a young ballet dancer, whose ambition is to become a world-famous dancer. We start our career from local competitions to slowly learn more and more complicated movements and take part in more and more difficult competitions.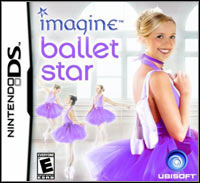 Game mode: single / multiplayer
Multiplayer mode: Internet

game language: English
game release date for NDS:
19November2008
Imagine game series is one of the bestselling Ubisoft franchises, while being designed mainly to girls aged 8-12. These games let players taste different careers, such as: fashion designer, rock star, veterinarian or teacher. This one lets the player become a young ballet lover, who dreams of becoming a world-class dancer.
In the main game mod, first you select which one of four girls you want to play as. This is not a simply cosmetic choice – each one differs not only in appearance, but also her personality and character, also their background stories vary. Of course, the beginnings of the career are not easy. You start participating in local contests, but gradually get to learn more difficult and spectacular moves and figures, which opens for you a way to more prestigious competitions. Regardless of the class of contests, you have to do your best to impress jury with your performance. Actually, all its elements are prepared by yourself – starting from selection of music, through choreography, outfit, make-up and optional accessories (over 130 items in total). Besides, you have to learn to accommodate daily training sessions with school and other duties of a typical teenage girl.
The developers also prepared three multiplayer mini-games for those who prefer competing against living opponents instead of AI. Imagine Ballet Dancer features very simple, intuitive controls – you use only the console's stylus.
PEGI Rating