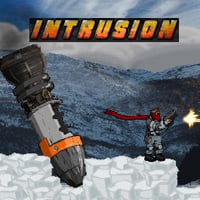 Intrusion
WWW
Free, browser-based arcade game created by one-person studio Vap Games, audio-visual and gameplay rules reminiscent of Metal Slug or Contra series titles.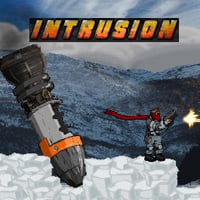 game release date for WWW:
21July2009
Intrusion is the first production by Aleksey Abramenko, a one-man studio called Vap Games. The game is a typical representative of arcade shooters, in which moving all the time right we fight against the taboons of enemies coming from behind the edge of the screen. A rich arsenal of destruction tools, as well as a simple but climatic 2D luminaire, are strongly associated with the already known Contra or any production from the Metal Slug series.
The plot of Intrusion lies entirely in the imagination of the person playing. In our hands was given a small-speaking warrior wrapped in a long, blood red scarf, holding in his hand an ordinary pistol and having a strong desire to infiltrate the nearby military installation. To the rhythm of the projectiles being fired, we break through five boards available in the game - from the icy wilderness, through rushing trains, to industrialised areas, gradually depleting the human resources of the unspecified, hostile army.
The rules of the game are trivially simple - the keys W, S, A, D are used to move our commandos, taking into account the jump and crouching, while the mouse allows you to aim and shoot. On the numeric keyboard we change the weapons raised in the game, including machine guns, grenade launchers, and even futuristic blasters. Sometimes the area in which one can move is limited to one specific location, such as a rocket flying in the skies, where we have to fight against a giant mecca, spitting out missiles and bundles of energy. The fight is dynamic and satisfying, although it doesn't reach such a dizzying pace as the mentioned Metal Slug.
The game has no multiplayer mode or cooperation, although it has been enriched with its own range of achievable achievements.
The Intrusion audiovisual setting, although not surprising nor shocking with its performance, fits perfectly into the established concept of arcade shooter. However, one should pay attention to the implemented physical engine, which allows for pushing boxes or animating the body of a fallen hero or opponents.
Please let us know if you have any comments or suggestions regarding this description.
Similar games:
Age Rating
age requirements: everyone