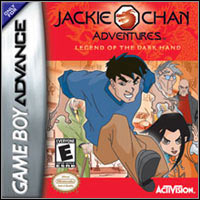 Jackie Chan Adventures: The Legend of the Dark Hand
GBA
A pocket-sized variation of the adventures of the famous martial arts master, who this time has to find eight magical scrolls. "JCA is a relatively simple fight.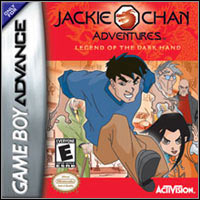 game language: English
game release date for GBA:
06November2001
Jackie Chan has been approved by Nintendo on its first pass! Jackie Chan Adventures: Legend of the Darkhand is based on the popular Warner Bros cartoon station series Jackie Chan Adventures, featuring our hero as a world travelling archeologist. On the Game Boy Advance translation, Jackie is hired by the secret government agency, Section 13, to help find ancient kung fu scrolls lost around the world. The challenge is to retrieve the scrolls before the evil organisation, the Darkhand, collects them to train their army of Shadowkhan.
Locations span areas such as San Francisco, a Mayan Temple, The Great Wall of China and even on top of a speeding train! As Jackie collects the scrolls, he is awarded special moves that aid him to defeat his enemies. Jackie's well-known resourcefulness aids him as he manages to fight using fish, brooms, chairs and boxes. All the familiar characters from the show are included, such as Shendu, Valmont, Finn, Chow, Ratso and Hak Foo.
The game features a scoring system not unlike Tony Hawk. Pull off a variety of moves for huge points and try different unique combinations. Save your game and high scores per level. Try your skills on three levels of difficulty and test your talent by tackling the elemental bosses.

Game score 7.5 / 10 calculated out of 47 players' votes.
Age Rating
age requirements: 12+