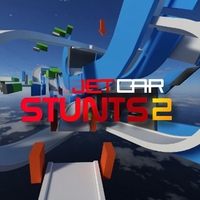 Jet Car Stunts 2
Jet Car Stunts 2 is a racing game released on Android, strongly deviating from the typical virtual racing. Here the boards are crazy structures suspended in the air and reaching the finish line is a huge challenge.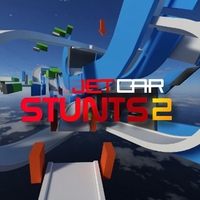 Jet Car Stunts 2 is an unusual racing game. The project was produced by True Axis studio, the same team that was behind the first part of the cycle. This time the authors opted for a free model with micropayments. For real money, however, we buy only specific content in the form of tracks and cars, and not facilitation of the game. We can also unlock everything that the game has to offer with a one-time payment.
Production offers a very unusual approach to the subject matter. Its maps do not resemble anything we can find in reality. Instead, the tracks are made up of crazy structures suspended in the air, designed to make reaching the finish line a huge challenge.
The control is also very complicated, which uses both a touch screen and an accelerometer. In addition to the steering wheel, we can control the brake, rocket afterburner and wings, allowing us to control the car's behaviour during the flight. Combined with crazy tracks, this means that each ride has to be carefully planned and then implemented with surgical precision, which results in a production that is as logical as a platformer and a racing game.
The authors have prepared one hundred and twenty tracks and each of them can be played on three difficulty levels. There are seven cars to choose from. They are not based on any models from reality, but the differences between them are diametrically opposed and force completely different approaches to each challenge. An additional attraction is the easy-to-use editor, which allows you to quickly create new maps and share them with the rest of the community.
Jet Car Stunts 2 boasts a minimalist but nice graphic design. Both maps and cars are made of simple single-coloured blocks, practically devoid of textures. At the same time, however, a modern lighting system has been implemented, which makes the whole look quite attractive. First of all, however, this style is very clear, which plays an important role in the production of this type of production.
Please let us know if you have any comments or suggestions regarding this description.
Similar games:
Age Rating
age requirements: everyone
System requirements
Apple iOS
Android OS