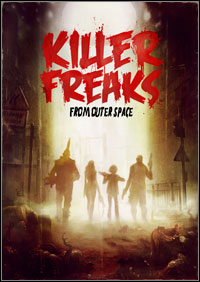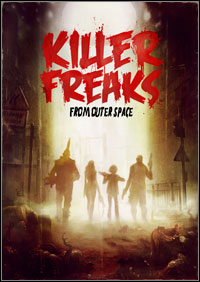 Killer Freaks From Outer Space
WiiU
FPS game maintained in the convention of humorous horror. The action takes place in London and our task is to repel the invasion of aliens.
Killer Freaks From Outer Space

Release Date WiiU

canceled
developer: Ubisoft publisher: Ubisoft Official website

game language: English
Killer Freaks From Outer Space is one of the first games designed for the Wii U controller. The whole control system was adjusted to the Nintendo console, so it's no surprise that the production was released only on this platform. It was created by the French company Ubisoft.
The action Killer Freaks From Outer Space takes the player to London, which has just been attacked by invaders from other planets. For the fight against the Earth's inhabitants, the swanned aliens use hordes of small but extremely dangerous creatures that devour everything that they encounter on their way. It is not difficult to guess that the player takes on the role of a hero who has to meet bloodthirsty little ones and show the strangers who rules on this planet.
The game resembles classic first person shooters. We are gradually breaking through the narrow streets of London, repelling waves of enemies. The whole is maintained in the horror convention. The action takes place at night, allowing the monsters to hide in the most diverse corners and jump out at the least expected moments. Despite the dark atmosphere, the game was enriched with a large dose of humor. Grotesque images of aliens with disproportionately large mouths filled with rows of sharp teeth look really funny. Killer Freaks From Outer Space is not a production that is supposed to impress with realism. The creators focused primarily on light, "rejuvenating" fun.
The game is controlled by a Wii U controller, so the action is observed on a small screen mounted in the device. Properly moving our hero, we aim and shoot at the opponents. This solution may not appeal to a more lazy part of the players. In order to keep up with agile aliens, you really need to wake up a lot, which after a while becomes tiring.
It is also worth mentioning multiplayer gameplay, because it is different from the single player mode. A traditional pad is used to control the main character. A player with a Wii U controller plays the role of aliens. Using a small screen, he observes his opponent's field of action from above and sets up monsters in selected places. He has to do it in such a way that they manage to get the hero. The other player, on the other hand, does everything not to be surprised and reach the end of the map.
Please let us know if you have any comments or suggestions regarding this description.
Game mode: single / multiplayer Multiplayer mode: Player counter: 1-2
Expectations: 8.6 / 10 based on 8 votes.
Age restrictions Killer Freaks From Outer Space: Good for all ages.