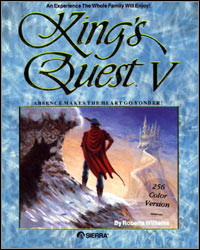 King's Quest V: Absence Makes The Heart Go Yonder
PC
The fifth game in the adventure series named after Roberta Williams. King Graham embarks on a dangerous journey to find out who is behind the disappearance of his castle and the kidnapping of his royal family.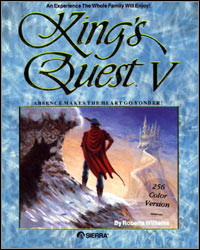 game release date for PC:
09November1990
King's Quest V: Absence Makes the Heart Go Yonder! is a breakthrough in a well-known series of adventures. For the first time, developers decided to introduce VGA graphics and a completely new interface with a set of icons, corresponding to different actions. The innovative production was appreciated not only by the players. In 1991, the prestigious Computer Gaming World magazine recognized the work of Sierra Studios as the best adventure game of the year.
Most installments of the series King's Quest are connected with the plot in a very simple way. At the end of one part, the authors introduce characters and dominant threads in the next part. Absence Makes the Heart Go Yonder! is the exception. Place of action - Serenia binds the game to the 1980 prequel of the series The Wizard and the Princess. The events presented in turn are a direct consequence of what happened in King's Quest III: To Heir Is Human. The finale also features the action of the next part of the series - King's Quest VI: Heir Today, Gone Tomorrow.
The main character of King's Quest V: Absence Makes the Heart Go Yonder! King's Quest III: To Heir Is Human). The imprisoned royal family is forced to feed the purple until Alexander agrees to restore its original shape.
King's Quest V: Absence Makes the Heart Go Yonder! uses a new graphical interface, which significantly changes the gameplay compared to earlier games in the series. The player controls King Graham's actions with a mouse and a set of icons like "see", "talk", "use". The main character accompanies Cedric almost all the time. Speaking owl in the assumptions should be helpful, but most often its remarks do not matter much.
Graphic arts of the game stands at a high (for those times) level. The advantage of King's Quest V is also the soundtrack by Mark Seibert and Ken Allen. The game was originally released on diskettes and was based on the DOS operating system. A little later its creators decided to release a remastered version on a CD, designed for Windows operating system, among others. This edition was distinguished by acting dubbing recorded by Sierra.
studio employees.
Please let us know if you have any comments or suggestions regarding this description.

Game score 8.5 / 10 calculated out of 291 players' votes.
Age Rating
age requirements: everyone
System requirements
Recommended:
386DX 33MHz
2MB RAM