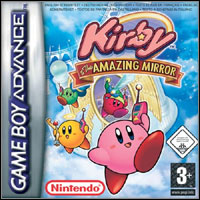 Kirby & the Amazing Mirror
GBA
Two-dimensional platformer with the title role of the Nintendo mascot. Our hero is cut into four equal parts and before he defeats evil once again he will have to reunite. The game focuses on multiplayer mode for up to four people, although it also allows you to have fun alone.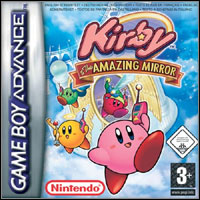 Game mode: single / multiplayer

game language: English
game release date for GBA:
02July2004
The Mirror World has been invaded by a dark shadow. To set things right, Kirby's going to need to pick up his cell phone and call in some backup -- himself! He's been split into four Kirbys of different colors to find pieces of a mirror and put it back together.
Features
* Play solo or link up with your friends
* New copy abilities
* Use a cell phone to call in some friends to help
* Play lightning-fast minigames
Kirby's a big copycat and he's proud of it. In Kirby & The Amazing Mirror, our pink friend finds some new abilities to copy. He can become an arrow-shooting Cupid and perform a crushing Smash. When fighting, Kirby can reel off some pretty impressive combos.
Of course, Kirby's got his signature moves: floating and sucking in enemies. But now, if Kirby's in trouble (or just wants some company), he can use his cell phone to call the different colored Kirbys to come to his aid. Because the cell phone has a limited battery life, Kirby needs to collect batteries along the way to recharge his cell.
Mirrors act as portals to many different areas. Luckily, Kirby has a map of each area.
In addition to all the adventure you've come to expect from Kirby, you can play against three other players in one of three minigames. Each has three levels of difficulty. You don't need separate Game Paks, but you will need the Game Boy Advance Game Link Cable to connect all the GBAs.
In Kirby Wave Ride, jump from wave to wave for max speed. Crackity Hack tests your timing smashing down on the Earth. Speed Eaters is another timing game in which Kirby sucks apples off a table. Watch out, though, or you'll suck in explosives. Talk abour heartburn! Two-player co-op in the main adventure requires two GBAs, two Game Paks and a Game Link Cable.
You can save up to three games. In each game there's a separate Collection Room, which holds all the maps and treasures Kirby finds along the way.
Bottom Line
Kirby fans rejoice! This full-fledged Kirby adventure is full of surprises, puzzles and fun.

Game score 7.895 / 10 calculated out of 66 players' votes.
PEGI Rating
System requirements
Game Boy Advance
+ additionally (GBA): link-cable