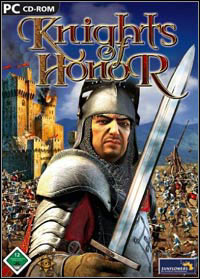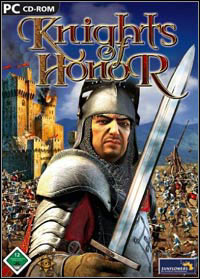 Knights of Honor
PC
An extensive real-time strategy, prepared by the Black Sea Studios development team with an action taking place in the Middle Ages. Our task is to create a powerful empire and conquer hostile nations.
Knights of Honor

Release Date PC

01October2004
developer: Black Sea Studios publisher: Sunflowers Interactive Official website

game language: English
Knights of Honor is the first Empire Conquering Simulation in real-time, and your goal is simple - become the Emperor of all of Europe by fair or foul means.
Never lose sight of your goal - to rule all of Europe.
The game's mix of Real Time Strategy and out and out Wargame provides something for all kinds of players, bringing in a much-needed Simulation element.
Think on your feet because the decision of how you conquer Europe is at last thrust into your own hands.
The Knights are the most important element of the game and with them you will fight wars, manage provinces and secure trade agreements with the other rulers. Think of the Knights as a finite resource, after all you have nine slots to fill with these powerful, brave and bold men.
You can fight, trade, make peace and alliances to achieve your goal while building up a successful Kingdom using the Knights in a variety of roles while other rulers are doing exactly the same.
You will play in one of three major time periods during an age rife with conquest and confrontation.
Early Medieval - about 1000 AD
High Medieval - about 1200 AD
Late Medieval - about 1350 AD
Each period represents a milestone in the medieval ages and comes with its own trials and tribulations; the Kingdom you choose affects the difficulty and challenge of the game. For example, you can choose England and you will get a large Kingdom with many resources compared to Aragon. Your economic and social situations, province sizes and how the rest of the world reacts towards you will be totally different.
In Knights of Honor your goal is simple - become the Emperor of all Europe by fair means or foul. But keep in mind that you are not playing in a static environment and the rest of Europe is vying for the same, so you will be inundated with requests or threats from fellow rulers as well as numerous agreements and perhaps even special missions.
Features:
-Three main game views provide a platform on which to make global decisions and perform tactical actions for all aspects of: Warfare, Espionage, Religion, Diplomacy & Kingdom Management.
-6 different types of Knights; some with special abilities and upgrades allowing them to achieve different objectives within the game: Marshal, Spy, Merchant, Landlord, Builder and Cleric.
-Command your loyal Knights to conquer enemy kingdoms, perform devious espionage actions or rule over your own provinces in different ways.
-Featuring one of the largest maps ever seen in the world of games with three historical entry periods, each with a totally different political situation and more than 100 playable kingdoms.
-3 geographical regions with over 150 provinces and different architectural styles such as Western & Eastern European as well as Arabian.
-More than 60 structures & upgrades that can be built to improve the production or defence capabilities of the province.
-A unique battle-system with tactical elements and more than 50 different types of military units and siege weaponry at the player's disposal.
-9 different types of battle including: Town Assault, Camp Assault, Open Battlefield and River Crossing.
Last updated on 10 December 2007
Game mode: single / multiplayer Multiplayer mode: Internet Player counter: 1 - 6
Media type: 2 CD
User score: 8,6 / 10 based on 1445 votes.
PEGI rating Knights of Honor
Knights of Honor System requirements
Recommended:
Pentium 4 1.5 GHz
512 MB RAM
graphic card 16MB
1.3 GB HDD