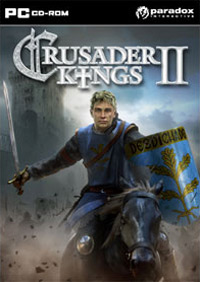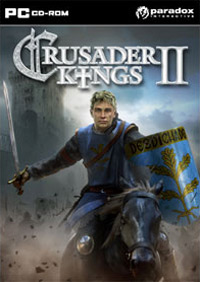 Crusader Kings II
PC
CK2, Crusader Kings 2
A sequel to the expansive strategy game Crusader Kings, which came to existence in 2004 as a medieval-themed spin-off to the popular Europa Universalis franchise that has been developed for over a decade by Paradox Studios.
Strategy | Economic | RTS | play for free | the middle ages | war strategy
Crusader Kings II

Release Date PC

14February2012
developer: Paradox Development Studio publisher: Paradox Interactive Official website

game language: English
Crusader Kings II for PC is a sequel to the popular grand strategy game by Paradox Interactive. Just like its predecessor, this title also adapts the Europa Universalis gameplay mechanics, although adjusted to the medieval reality.
Story
The action of the game starts in 1066 and allows the players to assume the role of a Christian noble (duke, prince, emperor or king) whose task is to lead his dynasty through the chaotic times of the European middle ages.
Gameplay
Compared to the first Crusader Kings, there are lots of novelties that significantly improve the overall game experience. In provinces, there are barons (or a few, if the province is rich enough), each having his own personality and ambitions. The enhancement of the psychological aspect of characters is an important part of the game, and as a result, even a family member may stab us in the back. The role of women is also greatly extended. It may happen that a subject who's been loyal so far, betrays us because his wife persuaded him to do that. Thus, as a ruler, we cannot really trust anyone.
In these hard times, a court spymaster proves to be of great importance. He tries to dismantle schemes against his liege, report about the circling rumors and find the ones who spread them. In such a case, we may summon the person in question, and tell him or her to mind their tongue. If we are in a bad mood, though, we may even lock up such trouble makers in a prison, or even call for their execution, regardless of whether they were actually guilty or not. In fact, the gameplay is based on the relations between the people of the game world. It is visible even in the military aspect of the game, because an extended system of casus belli was introduced. If we declare war without a proper reason, it may turn out to be the end of us. A game with such a title cannot have a shortage of crusades. The relations with Church were also greatly enhanced, and so now we may even create an anti-pope.
Game modes
Apart from the single player campaign, Crusader Kings II for PC also offers multiplayer mode for up to 32 players.
Game mode: single / multiplayer Multiplayer mode: Internet Player counter: 1-32
User score: 8,8 / 10 based on 1192 votes.
Pre-release expectations: 8.9 / 10 based on 236 votes.
PEGI rating Crusader Kings II
Crusader Kings II System requirements
Minimum:
Intel Pentium 4 2.4 GHz / AMD Athlon 64 3500+ 2.4 GHz
2 GB RAM
graphic card 512 MB GeForce 8800 GT / Radeon X1900 or better
Windows 7