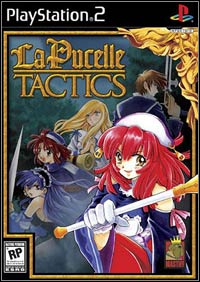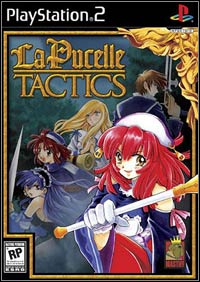 La Pucelle: Tactics
PS2
The creators of the best-selling tactical cRPG Disgaea: The Hour of Darkness are back. La Pucelle: Tactics uses the best features of its predecessor and introduces new solutions to offer players even more attractions.
La Pucelle: Tactics

Release Date PS2

04May2004
developer: Nippon Ichi Soft. publisher: Koei Tecmo Official website

game language: English
You can only be so darling when you're hunting demons.
She's loud. She's self-centered. And she just passed her exorcism exams. As Prier, a 16-year-old demon hunter, you'll journey through a treacherous medieval Europe in this occult tale of deception and betrayal.
Enter a stunning anime world featuring more than 120 hours of gameplay. Enjoy a deep tactical battle system with instant level-ups. Master 149 unique weapons and magical objects. Because when your smart mouth gets you into trouble, only smarter tactics and a fierce band of allies can get you out.
Winner of a coveted Gold Award from Famitsu. Japan's leading game magazine, La Pucelle: Tactics features a deep tactical battle system balanced with a heartrending story, fully developed characters and beautiful hand-drawn backgrounds.
Hardcore battle system
Attack simultaneously or in waves of up to 8 units. Use obstacles and terrain features on the battlefield to strategic advantage. Get closer to the fray as head-to-head battles play out in a detailed.
Dark portals and purification
Purify defiled ground or dramatically wipe out all enemies on the battlefield with a single massive Miracle Attack.
149 unique items
Combine your weapons to create special items or gain magical abilities. Power up your items in real time during battle.
Instant level-ups
Gain valuable items and skills-even new allies-after each unit's turn for fast gratification and furious fun.
Over 120 hours of gameplay
Traverse 12 enormous and distinct chapters. Uncover optional side quests and hidden stages.
Japanese audio included
Select either the all-new English dub or the original Japanese voices. Make your choice at the beginning of each stage as well as at the main menu.
Last updated on 10 December 2007
Game mode: single player
Media type: 1 DVD
PEGI rating La Pucelle: Tactics