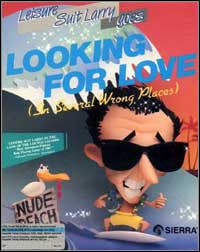 Leisure Suit Larry 2: Goes Looking for Love (in Several Wrong Places)
PC
The second part of Larry Laffer's adventures, a would-be amateur, loser and, at the same time, an incredible lucky man. This time Larry wins a million dollars in the "Dating in the dark" teletournament and a cruise to an exotic island with an attractive girlfriend.
Adventure | point-and-click | 2D | humorous | erotic games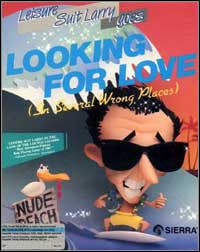 game language: English
game release date for PC:
15June1988
Who is Leisure Suit Larry?
If you look up the word nerd in the dictionary, you're liable to find Leisure Suit Larry's picture as a definition.
Leisure Suit Larry is the kind of guy you see in just about every seedy singles bar. He wears a white leisure suit with the shirt open to the waist (lots of gold chains make up for the lack of a chest). If you can get past the glow of his Grecian formula, you can see that his hairline is making a hasty retreat from his forehead.
Larry is the original blind date nightmare - the kind of guy you wouldn't want your daughter to date, let alone meet.
He is such a loser that Cosmo Magazine recently voted him most negligible bachelor of the year.
A Time Magazine article on The War Between the Sexes carried his picture with the caption an unarmed innocent bystander.
Why is Larry suddenly so popular with the ladies?
On cruise ships, in laid back Los Angeles, and in other exotic locations, Larry is suddenly attracting the attention of all kinds of nubile nymphettes. He's been propositioned by a bikini'd babe at the poop-deck pool, suffered the seductions of a sadomasochistic spinster, even played hide the onklunk with a sexy spanish senorita.
Why is it that some of the loviest ladies in the western hemisphere are so hot to get their hands on Larry - and why is he resisting their advances?
Why is it that Larry has suddenly started looking for Miss Right (as opposed to Miss Right-Now) and will he find her? Find out why when you play...
LOOKING FOR LOVE (IN SEVERAL WRONG PLACES)

Game score 6.8 / 10 calculated out of 68 players' votes.
Age Rating
age requirements: 16+
System requirements
Recommended:
IBM PC 486
8MB RAM