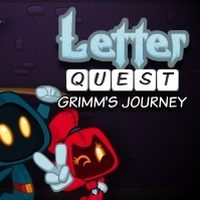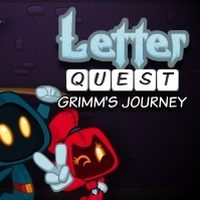 Letter Quest: Grimm's Journey
An unusual logic game that combines a turn-based RPG with elements of the popular board game Scrabble, developed by Bacon Bandit Games.
Puzzle | RPG elements | indie games | verbal
Letter Quest: Grimm's Journey for PC, iOS and AND is an incredibly original combination of a turn-based RPG and elements of the popular Scrabble. The title was developed by Bacon Bandit Games, an independent two-person studio from Canada, and is the studio's first serious commercial release.
Plot
The plot of Letter Quest is but a pretext to the actual gameplay. While playing, we assume the role of two grim reapers named Grimm and Rose who have to face hordes of monsters, ghosts, and other evil spawns only by using the power of… words.
Mechanics
The gameplay mechanics of Letter Quest: Grimm's Journey combine elements of a turn-based RPG and the popular word game Scrabble in a unusual way. The action is shown from a side view. We traverse five varied lands and fight turn-based battles. As we progress, we enhance our character and weapons (in this case, various scythes). The game's combat system is somewhat unusual.
Bacon Bandits Games' production features a dictionary with over 190 thousand English words in it, and we use it in battles to form words like we do in Scrabble. Damage dealt to an enemy is directly dependent on how many points we scored for a given word. This effect can be further modified using magical potions and items that we purchase for jewels earned in the course of the game. Our opponents (we encounter of 30 types of them) are not entirely defenseless, though, and can attack us with, for example, a poison or a whirlwind. Moreover, they can heal themselves, weaken our attacks, or drain life from the protagonist.
Technical aspects
Letter Quest: Grimm's Journey for PC, iOS and AND uses the popular Adobe Air environment and is characterized by colorful, although relative simple, graphics. The animated exploits of the heroes are presented only on one half of the screen since the other one is filled with the letter panel and other elements of the interface. The gameplay is accompanied by an old-school chiptune soundtrack.
Game mode: single player
Age restrictions Letter Quest: Grimm's Journey: Good for all ages.
Letter Quest: Grimm's Journey System requirements
Minimum:
Pentium 4 2.33 GHz
1 GB RAM
200 MB HDD
Windows XP/Vista SP2/7/8