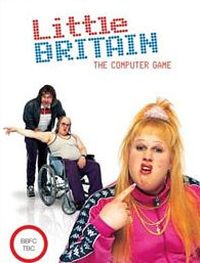 Little Britain: The Video Game
Little Britain: The Video Game is a game based on a popular, award-winning British comedy series produced by the BBC, which ridiculously and surrealistically ridicules the national characteristics of the British people.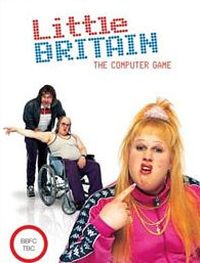 Maggie and Judy, Vicky Pollard, Emily and Florence, Lou and Andy, Dafydd Thomas, Marjorie Dawes and Letty...
In Little Britain: The Video Game you don't just watch the fun, you're part of it! Travel from Darkely Noone to Llandewi Breffi as you experience the award-winning comedy of Little Britain like never before!
Hilarious action-packed games - play your favourite characters in 3D. Each game plays like a sketch from the TV show and to win the game, the player must progress through all the sketches to the end of the show, where the credits will roll.
Features classic clips from the TV show.
The characters have all been modelled in 3D and hand animated to bring them to life, giving them the characteristics of their real-life counterparts. The voices will be provided by the stars of the TV show, Matt Lucas and David Walliams, who have also played an integral part in the scripting of the game, plus Tom Baker as the narrator!
PEGI Rating
System requirements
Sony PlayStation 2
Uses: memory card 8 MB
PlayStation Portable
Uses: memory card 32 MB
PC / Windows
Recommended: Pentium III 1.2 GHz, 256 MB RAM, 32MB graphic card, 1.5 GB HDD