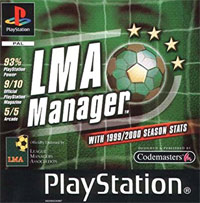 LMA Manager
PS1
Football manager, behind whose development is the Codemasters studio. From the start, LMA Manager was created exclusively for PlayStation 1, allowing you to customize the interface and control to the specific nature of the pad.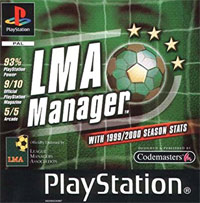 game language: English
game release date for PS1:
01January1999
LMA Manager is an economic strategy of the football manager type, which was developed by Codemasters studio. Unlike most games of this type, the production described here was created exclusively for PS1 from the beginning.
Mechanics
W LMA Manager players are at the forefront of a football club and control its finances, composition, training plans and tactics, and take care of its stadium. When it comes to a match with a competing team, they can not only passively observe the course of the match, but also make changes in the formation and strategy of the game.
The title is based on the 1999/2000 football season and we can lead to the victory of a team from four English leagues (Premier League, Division One, Division Two, Division Three). It is worth mentioning that the control system has been perfectly adapted to the specificity of the pad. The interface is based on tabs, between which we move by means of L2 and R2 buttons; screens inside them are switched by means of L1 and R1 buttons.
Game modes
Released on PS1 platform LMA Manager has three variants of the game. The basic one is Full Game, where we choose the team we are interested in and lead it to victory, making key decisions. Apart from that, we have to check the Quick Start mode, where we take on only a part of the manager's duties (the remaining duties are handed over to the Artificial Intelligence) and Challenge Mode, i.e. scenarios in which we have to achieve specific goals.
Technical issues
LMA Manager is operated via an intuitive interface. It is worth noting that the matches are played in a three-dimensional environment, and when the game is over, the player can see the summary of the game with commentary and a repetition of the best actions.
Please let us know if you have any comments or suggestions regarding this description.
Age Rating
age requirements: everyone