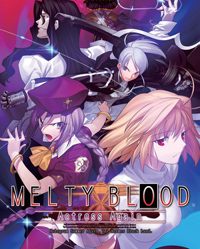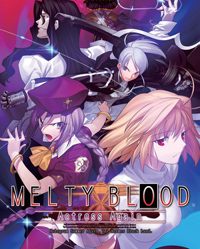 Melty Blood Actress Again Current Code
PC
Melty Blood Actress Again Current Code is a classic two-dimensional fight developed for PCs. The game boils down to one-on-one duels with the use of an extensive gallery of characters.
Fighting | 2D | for 2 people | splitscreen
Melty Blood Actress Again Current Code

Release Date PC

31December2011
developer: Ecole Software publisher: Arc System Works Official website

game language: English
Melty Blood Actress Again Current Code is a 2D fighting game developed by Ecole Software studio and released on PC. This is an extended and improved version of Melty Blood Actress Again released on arcade machines.
Plot
The game is set in a universe created for novels and visual novel adventure games by Type-Moon studio. The vision of the world created by this team combines contemporary reality with fantastic elements like supernatural beings and magical powers. The Melty Blood series is based primarily on Tsukihime characters. However, players can also encounter characters from other universes created by this studio.
Melty Blood Actress Again Current Code is a rare case - it is a fighting game with a very complex and multithreaded scenario. The action takes place in the city of Misaki, a year after the dramatic events of the first Melty Blood. The warriors have the impression that one very dear person has disappeared from their memory and they cannot remember exactly who that person is. Worse still, the events from twelve months ago are starting to repeat themselves. They are caused by other supernatural beings, and yet for some reason, these creatures recreate almost step by step the progress of their predecessors.
Mechanics
In terms of gameplay mechanics, Melty Blood Actress Again Current Code is a classic 2D fighting game. You can choose from over twenty heroes with different characteristics, combat techniques, and special attacks. The fun comes down to a series of one-on-one duels. Each hero has three variants - fast, simplified and strong - we choose the style before the fight. The game is fast-paced, and the combat system places great emphasis on blocks, counters and combos.
Game modes
The game offers several single-player campaigns which form a chronological story. Each of them has a different main character and presents completely new plot points and situations. We can also fight independently against artificial intelligence and try our hand against other players in the multiplayer mode - local or online.
Game mode: single / multiplayer Multiplayer mode: Internet
Age restrictions Melty Blood Actress Again Current Code: 16+