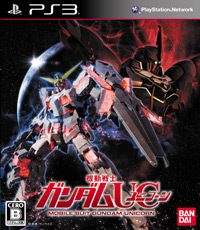 game language: Japanese
game release date for PS3:
08March2012
Mobile Suit Gundam Unicorn is a combination of an action game and a moss combat simulator that takes place in space. The production of the title is the responsibility of a well-known Japanese development studio From Software, which has many years of experience in creating games with huge robots in the lead role, belonging to the Armored Core or A.C.E. Another Century's series. The game is based on a series of Unicorn Gundam books and their animated adaptation, faithfully reproducing the first part of the plot presented in them and telling it from the point of view of the most important characters.
The history of the game takes place in the most important universe of UC, which since 1979 has been continuously expanded with new books, comic books, games and series. The axis of the plot is the title moss Unicorn Gundam, which conceals the key to a mystery that can change the face of the world.
The title offers two game modes. In Unicorn mode, in the three chapters dedicated to each of the main characters of the series, we will sit at the helm of various mosses and follow the story known from the series. In Gundam cast mode, we will control one of the robots from a three-person branch and together with partners controlled by AI we will take part in a series of missions. Before each of them we will be able to modify the armament of our machine and choose the corresponding model.
We will spend most of the game in space. We observe our moss from the third person's perspective. Controlling a machine is quite simple and should not cause problems for action game veterans. We move fast, from target to target. You can choose from distance weapons such as rocket launchers or laser guns, as well as short-circuit weaponry such as axes or energy swords.
Three-dimensional and realistic graphics of the game, tries to be faithful to the source material and will not disappoint fans of the genre. During the game we will be accompanied by the original music track, sound effects and actors' voices known from the series.
Please let us know if you have any comments or suggestions regarding this description.
Age Rating
age requirements: everyone