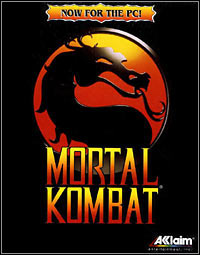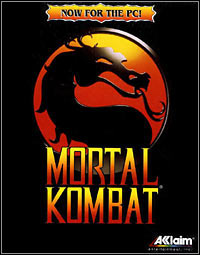 Mortal Kombat (1993)
PC
The debut edition of the cult series of virtual battles, characterized by an extremely brutal approach to the subject. There are seven warriors to choose from: Liu Kang, Rayden, Sub-Zero, Scorpion, Sonya, Kano and Johnny Cage.
Fighting | 2D | for 2 people | splitscreen | very brutal
Mortal Kombat (1993)

Release Date PC

08September1993
developer: Midway Games publisher: Acclaim Entertainment

game language: English
Sorcerer Shang Tsung from the name sharpened his teeth on the souls of the inhabitants of our world. He lacked only one thing for his desired goal, i.e. complete subjugation of the Earth - ten victories in the mythical Mortal Kombat tournament. Only in this way could he fulfill his evil intentions. For now it was going well, after all, his champion - Prince Goro, spread his opponents to shreds for the next nine generations. Mortals, however, have nothing to lose anymore. If they don't succeed in winning and preventing enemy plans, their souls will forever become Shang Tsung's slaves.
There are seven warriors to choose from: Liu Kang, Rayden, Sub-Zero, Scorpion, Sonya, Kano and Johnny Cage. Each of them has a basic set of strokes, which in combination with directional keys guarantee a variety of attacks. In addition, the authors have implemented a whole series of special blows, which can be done after entering a specific sequence of moves. They are much more effective than traditional blows, but on the other hand, blocking them can be disastrous for the attacker. Each duel takes place in up to two winning rounds. Afterwards, a fatal blow can be made, which will take care of the opponent for good. In addition to the characters mentioned at the beginning, the player will also have to deal with Prince Goro and the Shang Tsung himself, who can turn into other warriors.
Mortal Kombat has written golden syllables in the history of the genre, not only because of the dynamic combat model, but also - or perhaps above all - the enormous brutality of the spectacle. The exchange of blows between warriors is lavishly sprinkled with blood, and at the end of the fight you can simply kill your opponent, e.g. by pulling out his head and spine, or by burning him alive. It was the presence of death sentences (Fatality) that made the programme very popular among players, while at the same time raising the media noise about the presence of violence in electronic entertainment. The game's audiovisual setting is at the highest level. Photorealistic animations of the fighting, as well as excellent sound effects and music can be remembered for a long time.
Please let us know if you have any comments or suggestions regarding this description.
Last updated on 10 December 2007
Game mode: single player
User score: 7.1 / 10 based on 367 votes.
Age restrictions Mortal Kombat (1993): 16+