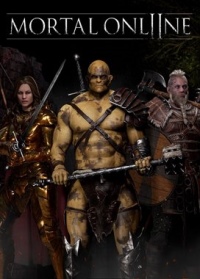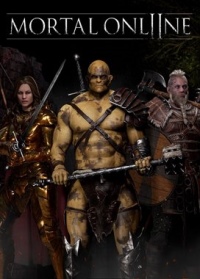 Mortal Online 2
PC
Mortal Online 2 is a sequel to the challenging MMORPG, in which at every step we have to watch out for hostile players ready to deprive us of life and all our equipment.
RPG | FPP | fantasy | PvP | PvE | MMORPG | sandbox | MMO | crafting
Mortal Online 2

Release Date PC

25January2022
developer: Star Vault publisher: Star Vault Official website

game language: English
Mortal Online 2 is a sequel to the 2010 MMORPG Mortal Online focusing on ruthless clashes with other players. Both games were developed by Star Vault studio, which also created VR game Kitten'd and spin-off battle royale Mortal Royale.
Plot
In Mortal Online 2 we return to the world of Nave, set in a medieval fantasy style. Over a hundred years ago the continent of Myrland was struck by a plague of huge insects. At first they targeted crops and animals, but soon they began attacking people and other races.
The tribes of Myrland, unable to resist the murderous swarms, were saved from total annihilation only by a miracle. However, the insects left behind a desolate land, unable to feed even the decimated population of the continent. Many tribes quickly holed up in more or less temporary shelters, whether in the sewers of cities or in caves.
Only now, more than a century later, did the world begin to revive, encouraging the hiding tribes to come out of their hiding places at almost the same time. Conflicts quickly arose between the wandering groups and the new civilization that seemed to have risen in Myrland in the absence of the continent's former inhabitants.
Game mechanics
Mortal Online 2 is based on a typical MMORPG scheme. We have a vast world to explore as a group or solo, with monsters to defeat, skills to learn and allies to find. We can choose from ten races, including five human and one that is a hybrid with more fantastic inhabitants of Myrland.
At the same time the game focuses on PvP in a way incomparable to most representatives of the genre, although not as much as the first Mortal Online. In Nave we can be attacked in almost any place, and the defeated players must take into account the possibility of losing all their equipment to the aggressors (and not only). That is why it is crucial to find companions to ensure our safety while exploring the game world. Moreover, as the game uses FPP view, there is no possibility to look behind you discreetly, which makes ambushes easier.
A similar approach - crude, but offering a fair amount of freedom - is also used in other gameplay mechanics. Crafting items is a trial-and-error method, as the game doesn't give us any ready recipes. This encourages you to experiment and allows you to become known as an excellent craftsman. It is important because almost all items in the game are created by the players.
What's more, there are no character classes in Mortal Online 2. We can choose from over 600 skills, which can be combined in almost any way we like. This allows us to create a character that perfectly suits our style of play. There is also no problem with learning them - most skills we develop simply by using them.
It is worth remembering, however, that skills and good equipment are not everything. In real-time combat, it's the player's skills that count, and the de facto lack of rules means that we can never be sure of victory. Even in battles with NPCs it can turn out that a seemingly weak opponent has an ace up his sleeve - for example hidden friends. Everyone can also use different techniques, including magic, ranged weapons, mounted combat etc.
Technical aspects and other
Mortal Online 2 runs on Unreal Engine 4 technology, but the developers have also prepared for the upgrade to the newer, fifth-generation engine. Thanks to this, the 3D graphics present a high level, despite the huge locations filled with hundreds of mobs, NPCs and player characters. The game also takes advantage of additional graphics technologies such as DLSS and ray tracing, as well as allowing for cloud-based play through the GeForce Now game streaming service.
The game is sold as a monthly subscription ( known as pay-to-play), whereby once you purchase the game you get it for one month.
Game mode: massive online multiplayer Multiplayer mode: Internet
Age restrictions Mortal Online 2: 18+
Mortal Online 2 System requirements
Minimum:
Intel Core i3-3220 3.3 GHz / AMD FX-6100 3.3 GHz
16 GB RAM
graphic card 1 GB GeForce GTX 650 / Radeon HD 7750 or better
90 GB HDD
Windows 7/8.1/10 64-bit
Recommended:
Intel Core i7-6700K 4.0 GHz / AMD Ryzen 7 1700 3.0 GHz
32 GB RAM
graphic card 8 GB GeForce GTX 1070 / Radeon RX Vega 56 or better
110 GB HDD
Windows 7/8.1/10 64-bit