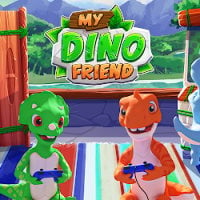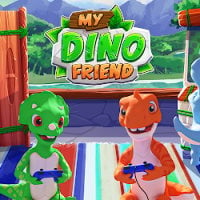 My Dino Friend: Virtual Pet
My Dino Friend: Virtual Pet is a mobile game developed by the Polish studio T-Bull in cooperation with Ekipa, in which the players' task is to take care of the development of a small dinosaur. The gameplay is varied by numerous mini-games.
Simulation | casual | play for free | dinosaurs | Polish | Prehistory
My Dino Friend: Virtual Pet is a mobile game using the free-to-play model. It was developed by T-Bull studio in cooperation with GG Bay, a company founded by Ekipa, one of the most popular youtuber groups in Poland.
Game mechanics
My Dino Friend: Virtual Pet can be described as a variation on the popular Tamagotchi brand. Players are in charge of raising their own dinosaur. They have to feed it, wash it, change it and develop its talents.
The more time we spend with our pup, the more developed he will become. On the other hand, neglecting him can lead to a regression of progress. Players can also modify and upgrade the spaces in which the dinosaurs reside.
To these standards of the genre, a set of mini-games has been added, access to which depends on the level of evolution of our prehistoric charge. Among them we can find a simple match-3 puzzle game or an arcade in which we remove obstacles from the river, allowing the boat to flow freely. Success in these challenges later allows you to develop your dinosaur more strongly.
Game mode
My Dino Friend: Virtual Pet offers a single player mode only.
Technical aspects
The game offers eye-pleasing graphics done in a cartoon style. In My Dino Friend: Virtual Pet, the dinosaur care screen is done in 3D, while among the mini-games, some are done in 2D and others are 3D.
Last updated on 04 January 2023
Game mode: single player
Age restrictions My Dino Friend: Virtual Pet: Good for all ages.