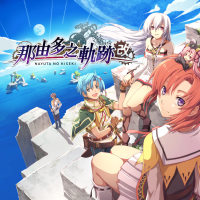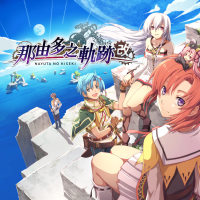 Nayuta no Kiseki: KAI
Nayuta no Kiseki: KAI is an action RPG developed by Japanese studio Falcom. The game takes place in fantasy world and offers gameplay focused on arcade combat and extensive platforming elements both during exploration and battles.
RPG | fantasy | 3D platformers | action RPG
Nayuta no Kiseki: KAI
Release Date
Nayuta no Kiseki: KAI is a Japanese action RPG that is part of the popular Trails series , which itself is part of the larger The Legend of Heroes brand. Game was developed by Falcom studio. It debuted in 2012 on PSP handheld console, but this release never lived to see the English version. Localisation was only developed for the improved conversion on PC, PlayStation 4 and Nintendo Switch.
Plot
The story begins on Remnant Island, on the surface of which stars have been falling for some time. In the craters left over from the collision, the inhabitants find mysterious stellar fragments that, when properly illuminated, reveal an alternate world known as Lost Heaven.
The main character is a young explorer named Nayuta Herschel, who returns to his home village on Remnant Island in the summer. There, together with a childhood friend named Signa Alhazen, they meet a gnome from another world who transports them to Lost Heaven. There they will have to thwart the plans of a madman, the execution of which may lead to the destruction of both worlds.
Game mechanics
Nayuta no Kiseki: KAI is a classic realized action jRPG. We explore the world, complete tasks and, most importantly, fight hordes of monsters with the help of a highly arcade system of battles. Along with the progress in the campaign we gain experience points, for which we improve our character's statistics and unlock new skills.
During the battles we control only the main character who can only make attacks with cold weapons. However, he is accompanied by a gnome, whom we can give commands to activate spells. There are also special techniques available, combining the talents of both characters.
Seasons play a key role in the game. The player can change them by interacting with objects on the map. Each season not only affects the appearance and features of the location, but also the behavior of enemies and the effectiveness of various spells of the gnome.
The gameplay is varied by platforming elements which require overcoming obstacles on the maps and avoiding dangers that appear there. This aspect of gameplay also appears in battles with bosses.
Game modes
Nayuta no Kiseki: KAI features a single-player mode only.
Technical aspects
Compared to the original on PSP, Nayuta no Kiseki: KAI offers improved visuals, with higher resolution and nicer effects.
Game mode: single player
Age restrictions Nayuta no Kiseki: KAI: 12+
Nayuta no Kiseki: KAI System requirements
Minimum:
Intel Core i3
8 GB RAM
graphic card GeForce GT 1030
4 GB HDD
Windows 10 64-bit
Recommended:
Intel Core i5
8 GB RAM
graphic card GeForce GTX 1050Ti
4 GB HDD
Windows 10 64-bit