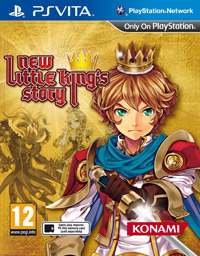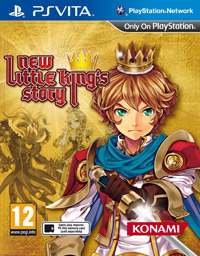 New Little King's Story
PSV
In New Little King's Story players take on the role of a young ruler who wants to bounce his kingdom from the hands of the forces of evil. Our faithful subjects, whom we will command on the battlefield, will help us in this difficult fight.
New Little King's Story

Release Date PSV

29March2012
developer: Konami publisher: Konami Official website

game language: English
New Little King's Story comes to PS Vita for the very first time! Based on the classic action adventure RPG, players can enter the role of King Corobo and experience his incredible journey to win back his kingdom. Rise up to regain all that was lost to the Devil King, The Nightmare. As King, you will visit seven different locations and take on battles against evil dark lords that have captured the royal princesses. Lead your Royal Guard in every grand battle. Charge and retreat with a single command! Plan your attacks wisely and you can increase your army of citizens and broaden your territories! It's an exciting adventure you won't want to miss!
Features:
A Brand New Storyline - Fans and new players alike can experience a reimagining of Little King's Story, featuring King Corobo! Save royal princesses, travel unknown lands and conquer your new enemy, The Nightmare.
Enhanced PS Vita Graphics and Features - Experience an ever-changing 24-hour world filled with upgraded 2D and 3D visuals and utilizes intuitive touch controls, including the PS Vita rear touch pad.
Lead Massive Armies and Build Your Kingdom - Make your plan of attack! Use your scouting ability to organize your citizens based on their job skills and lead your army's battle formations.
New Online Functionality to Enhance Your Game play Experience - Enjoy a myriad of newly added online features including downloadable content, item combining co-operative play, and online leader boards!
Last updated on 19 June 2012
Game mode: single player
PEGI rating New Little King's Story