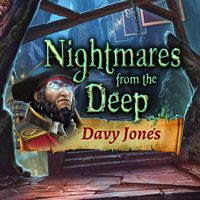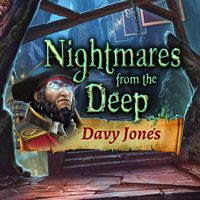 Nightmares from the Deep: Davy Jones
The third part of the pirate trilogy by the native Artifex Mundi studio, which combines the best features of point-and-click adventures with puzzles like "find hidden objects".
Nightmares from the Deep: Davy Jones
Release Date
Nightmares from the Deep 3: Davy Jones is the final chapter of the critically-acclaimed pirate trilogy, following the fearless museum curator, Sara Black, and her daughter, Cory.
After a series of mysterious notes provide Sara the evidence she needs to prove to the world that the legend of Davy Jones is real, she calls a press conference to reveal what she has learned about the Sea Devil and his treasure, hidden away on a cursed island.
Suddenly Davy Jonesís sails appear on the horizon, and the undead pirate enters the museum to kidnap Sara and her daughter...
The women are taken to the hold of Jonesís ship, where a failed escape attempt earns them the pirateís ire. He orders them to walk the plank. In order to save her motherís life, Cory agrees to sign a dark pact with Davy Jones: she must offer the pirate her life in exchange for her motherís.
Sara Black ends up on Davy Jonesís mysterious island, where undead pirates have been enslaved by their masterís eternal pacts. As she explores the island, our heroine awakes the fossilized Guardians, who reveal to her Davy Jonesís deepest personal memories.
The adventurous curator must face her hardest task yet: in order to save her daughter from the soul-stealing pact with Davy Jones, she must find a way to cancel it. In order to fulfill her mission she will have to travel through the twisted corridors of a gold mine, a pirate town, Davy Jonesís palace and murky swamps.
Numerous mysteries haunt her every step. Who is the voodoo witch who lives on the cursed island? Or the brilliant alchemist, OíMalley? Why does the ghost of a beautiful young girl roam Davy Jonesís island, and what is her connection to the legend? How did the legendary pirate manage to amass such power and wealth? Prepare for the conclusion to the thrilling saga!
Game mode: single player
Media type: PlayStation Store
User score: 2,6 / 10 based on 33 votes.
PEGI rating Nightmares from the Deep: Davy Jones
Nightmares from the Deep: Davy Jones System requirements
Recommended:
Pentium 4 2 GHz
1 GB RAM
2 GB HDD
Windows XP/Vista/7/8