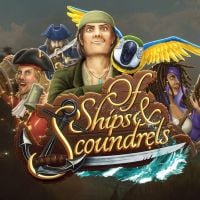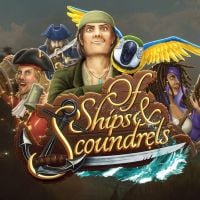 Of Ships & Scoundrels
PC
Original hybrid of turn-based strategy and action game, additionally enriched with RPG elements. In Of Ships & Scoundrels, the player takes the lead in the fleet and tries to take control of the picturesque archipelago.
Strategy | Economic | turn-based | Pirates | RPG elements | ships | indie games
Of Ships & Scoundrels

Release Date PC

early access

14November2019

June2023
developer: Korion publisher: Korion Official website

game language: English
Of Ships & Scoundrels is an unusual game marrying action and turn-based strategy with RPG elements. The title, enabling the players to lead their own fleet, was developed by the independent German studio Korion.
PLot
Of Ships & Scoundrels takes place in a picturesque archipelago controlled by the sinister Lord Melville and his powerful fleet. The main characters in the game are Richard and Victoria, siblings and young sailors who come here after the death of their father, who was a leader of a gang of smugglers, and decide to declare war on the self-proclaimed ruler and try to take his place. In order to do this, however, they must first capture the ships with which they will face his fleet. Richard and Victoria are not Lord Melville's only concern; he is also followed by Snake, the leader of a group of pirates who will not rest until he is killed.
Mechanics
In Of Ships & Scoundrels the action is shown from bird's eye view. The archipelago is generated procedurally, so that after each start of the game it looks a little different. When sailing in the surrounding waters, we control our ship directly. At the same time, we must not only pay attention to the strength and direction of the wind, but also carefully observe the surroundings in search of enemies.
The battles against the latter take place in turn-based mode. Within each turn we have a certain number of action points (similarly to our opponent), with which we "pay" for performing (in real time) specific actions. Certain actions "drain" this resource faster (e.g. swimming against the wind), and when we manage to defeat an enemy, their action points are credited to our account. In addition, an important aspect of the combat system is the "momentum", which introduces additional dynamic to turn-based clashes. Ships are not able to stop immediately, so if we run out of action points during a manoeuvre, we will be able to finish a certain movement in the next one. This aspect of the game can be used for one's own benefit, for example, by ramming an enemy unit right it after the next turn begins. Not only other ships stand in our way, but also creatures from marine stories, headed by the powerful kraken.
In addition to combat, the economic layer plays an important role in the game. On the archipelago we will find both inhabited port towns (which we can capture), as well as places waiting to be claimed. It is worth taking an interest in them mainly due to the fact that thanks to them we can gain the resources necessary to purchase new units and improve the existing ones. The game offers various types of ships - from light and nimble to heavy man-o-wars, striking fear in the hearts of lesser enemies.
As we progress, each ship gains experience and after leveling up we can increase its stats (like endurance, firepower or speed) and unlock new skills. In addition, we can freely modify the arsenal on board a ship by buying different types of guns. The towns themselves can also be improved by building new structures; in this way we increase their "processing capacity" or their defensive capabilities. The last type of upgrades are those that are unlocked between missions; they affect not only our ships, but also, among other things, the game world, giving us an additional advantage over our adversaries.
Game modes
The pillar of the game is the single-player story campaign; during the missions that make up the campaign, we follow both Victoria and Richard as well as Snake as a side character. In addition, there is a multiplayer mode that allows for up to four players to play together online or locally.
Technical aspects
Of Ships & Scoundrels features colorful, eye-catching graphics. Above all, we may like realistically animated water, but the changing weather conditions and the day and night cycle are also worth mentioning.
Last updated on 22 November 2019
Game mode: single / multiplayer Multiplayer mode: Internet Player counter: 1-4
Age restrictions Of Ships & Scoundrels: 12+
Of Ships & Scoundrels System requirements
Minimum:
Intel Core i5
4 GB RAM
graphic card 2 GB GeForce GTX 850M or better
3 GB HDD
Windows 7
Recommended:
Intel Core i7
8 GB RAM
graphic card 6 GB GeForce GTX 1060 or better
3 GB HDD
Windows 7/8/10