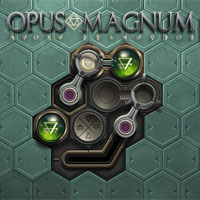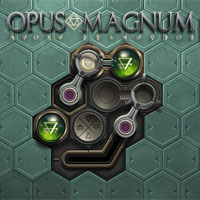 Opus Magnum
PC
A logic game created by Zachtronics Industries. The protagonist is Anataeus Vaya, the most promising scientist of his generation who has just took the position of Head Alchemist in one of the oldest and richest families in town. His new employers hide a dark secret.
Puzzle | Games Workshop | 2D | indie games | EA Play
Opus Magnum

Release Date PC

07December2017
developer: Zachtronics Industries publisher: Zachtronics Industries

game language: English
Opus Magnum is a logic game for PC only. It was developed by Zach Barth, an indie developer, and his studio called Zachtronics Industries. Brath is known for designing this type of productions. He created such titles as Infinifactory, Shenzhen I/O, and Ironclad Tactics. Opus Magnum strongly harks back to Brath's first games: The Codex of Alchemical Engineering and The Magnum Opus Challenge.
Plot
The protagonist of Opus Magnum is Anataeus Vaya, an extremely talented alchemist: he's brewing all kinds of potions, creating metals, and even forging deadly weapons. He takes the position of Head Alchemist of the Van Tassen family, one of the oldest, richest, and most respected families in town. As he completes jobs given to him, Vaya discovers dark secrets of his employers. This gets him in trouble that alchemy alone may not be able to solve.
The game is divided into a prologue that serves as a tutorial, and five subsequent chapters. Each one offers several puzzles to solve.
Mechanics
The action of Opus Magnum takes place on a board that consists of hexagonal fields. There's a number of devices at the player's disposal, including automatic pliers and feeders. The task is simple – we have to use these objects and the basic elements and alchemical components (such as salt, lead, iron, or copper) available on the given board to build and program the simplest and most compact machine that can craft a given product in the smallest number of moves possible. While constructing, we have to take into account not only the amount of space taken by the mechanism but also our funds. The more we spend on the apparatus, the worse our score.
We can boast our best scores to our friends, not only in the form of statistics (including the cost of the given device, the number of moves needed to get it to function, and the amount of space it took on the board) but also short .GIF animations that show our constructs in action.
Opus Mangum for PC also features another gameplay mode based on the rules of popular mahjong called Sigmar's Garden. It involves matching two symbols of elements and alchemical components. If we do it properly, the signs disappear and directly neighboring ones appear. The main goal is to get rid of all the symbols from the board.
Technical aspects
The graphics of Opus Magnum for PC are two-dimensional and raw but clear, smooth and well suited to the game's atmosphere. The well-made character portraits and environment backgrounds are especially noteworthy.
Misc.
Opus Magnum offers a level editor and full support for Steam Workshop. Thanks to this, the players can freely create and share new puzzles and challenges. The top rated puzzles are placed in the prestigious Journal of Achlemical Engineering section, which is overseen by Zachtronics Industries.
Game mode: single player
User score: 9 / 10 based on 66 votes.
Age restrictions Opus Magnum: Good for all ages.
Opus Magnum System requirements
Minimum:
Intel Pentium 4 2 GHz
4 GB RAM
graphic card 512 MB GeForce 8800 or better
600 MB HDD
Windows Vista/7/8/10
Recommended:
Intel Core i3 2 GHz
4 GB RAM
graphic card 1 GB GeForce GTX 460 or better
600 MB HDD
Windows Vista/7/8/10