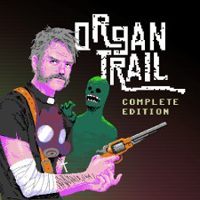 Organ Trail: Complete Edition for PS4 and PSV is a game about surviving in a world infested with zombies. The title combines features of strategy game, RPG and simulation. It was developed by a two-person development team The Men Who Wear Many Hats from Chicago. The game is an expanded version of the original title that was released on PC in 2013. It contains the Endless and Final Cut expansions, which add new features to the game, such as a cooperation mode, new enemies and bosses, and new ways to die.
Mechanics
The game is a pastiche of the old American hit, Oregon Trail, which depicts the hard fate of settlers colonizing the western coast of United States. The game presents action in form of an education show which is supposed to teach children how to survive during the incoming zombie apocalypse. The game is mostly about fighting for survival. The player controls a four-person group of survivors who travel through the United States in an old car. The player must keep the survivors alive. It isnít easy because, despite all the fantasy elements, the game presents survival aspects in a realistic way.
During the journey, the player must gather food and useful items. Medicaments, ammunition and gasoline are especially valuable. The vehicle is in a bad condition and it requires regular repairs and new parts. In addition to that, the survivors are threatened not only by zombies, but by bandits and animals as well. The protagonists can die because of various illnesses as well. At the gameís beginning, the player can name each character, which makes the story a bit more personal, since this makes it harder to accept their death, for example after they become infected with a virus that transforms them into zombies.
Fights with undead bosses, as well as a weather change simulation system make the game more interesting. However, the greatest advantage of the title is its non-linearity. The player dies here quite frequently (especially early in the game), but all events are random, so each new attempt is different than previous ones.
Technical aspects
Organ Trail: Complete Edition for PS4 and PSV offers stylish 8-bit graphics and music inspired by retro games.
Similar games:

Don't Starve: Giant Edition
PEGI Rating