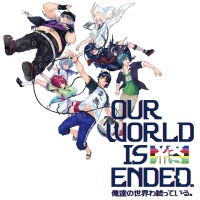 Our World Is Ended
Our World Is Ended is a visual novel by Red Entertainment. We play as Reiji Gozena, who is a member of Judgement 7 group - a young video game developer team that, while working on a new game, unwittingly created a demonic program that can influence reality.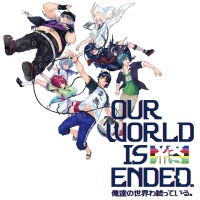 Our World Is Ended is the classic representative of the visual novel genre, created by Red Entertainment and released by PQube. Its action takes place in a faithfully reproduced district of Tokyo - Asakusa. Story of Our World Is Ended revolves around a group of Judgement 7 - a young studio, which, while working on a new game, unwittingly creates a demonic program that can affect reality.
Story
While working on a game using a new engine called W.O.R.L.D., members of the Judgement 7 studio unwittingly create a demonic program that blurs the boundaries between fiction and reality. As a result, elements of the studio's games begin to destroy Asakusa, one of Tokyo's districts. Reiji Gozen, a member of the Judgement 7 group, makes a heroic attempt to save the world and decides to destroy the demonic program.
Mechanics
Our World Is Ended features classic visual novel solutions. The basis of entertainment here are dialogues conducted by the main character with a number of NPCs. The decisions made during this time have a significant influence on the further development of the plot, which may eventually lead to different endings. Additionally, a system called S.O.S (Selection Of Soul) has been implemented in the game. It works in moments when the hero has to make an important decision; then the screen shakes and a list of possible choices appears (its length depends on the strength of the hero's emotions - the stronger they are, the more options). However, the options resulting from this system are limited in time - if the decision is not taken quickly enough, the additional possibilities will disappear.
Technical aspects
Our World Is Ended uses species-specific 2D graphics in manga style. Particular attention should be paid to Asakus - the district of Tokyo has been faithfully reproduced in relation to reality; even the names of individual streets and places agree.
Similar games:
PEGI Rating
System requirements
PC / Windows
Minimum: Intel Core i3, 4 GB RAM, graphic card Intel HD or better, 13 GB HDD, Windows 7/8.1/10