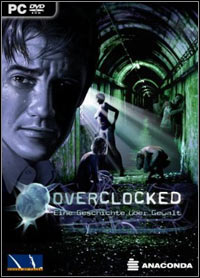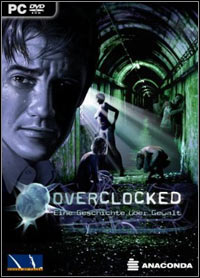 Overclocked: A Story of Violence
PC
Overclocked is another adventure from House Of Tales studio. In the case of a German producer we could always count on an interesting and captivating plot (e.g. The Moment of Silence), often touching on sensitive topics. It is no different this time.
Overclocked: A Story of Violence

Release Date PC

12October2007
developer: House of Tales Entertainment GmbH publisher: dtp AG / Anaconda Official website

game language: English
Striking new ways for a classic point & click adventure game, Overclocked tells an exceptional story about a psychiatrist and his five young patients.
US army combat psychiatrist David Mc Namara has been hit hard since retiring from active duty: struggling with mysterious choleric attacks and a marriage in crisis, he is now called to New York for his expertise in forensic psychiatry. At the Staten Island Forensic Hospital he is to attend to five young men and women, who were found screaming, scared, with no memory or orientation across New York City. Dave begins to cautiously explore the memories of his young patients – and makes alarming discoveries. The game's exceptional approach: players not only take over the role of Dave McNamara, who investigates in the present, but also will take control of the five patients in flashbacks.
The memories that McNamara brings to light, are explored by the player in backward chronological order – the further players progress in the game, the further back in time he advances. The new screenshots show Dave working with Ray, one of the patients and show two gloomy scenes from the traumatised characters' flashbacks.
Overclocked combines the virtues of highly detailed, pre-rendered backgrounds with a dynamic camera. Cinematic camera movements, panning, zooms and close-ups, together with motion capturing, facial animations, 3D characters, real-time post-processing effects and real-time light/shadows guarantee for the adventure game's exceptional graphics.
* Point & click adventure game with innovative gameplay
* Controversial and topical story with a brand-new narrative approach (chronologically inverse storytelling)
* 20 hours of captivating suspense in an interactive psycho thriller
* 6 playable characters
* 45 atmospherically animated locations
* Detailed high quality 3D graphics, including weather and light effects and facial expressions
* Innovative dialogue system
Last updated on 10 December 2007
Game mode: single player
Media type: 1 DVD
User score: 7,9 / 10 based on 329 votes.
PEGI rating Overclocked: A Story of Violence
Overclocked: A Story of Violence System requirements
Recommended:
Pentium 4 2 GHz
512 MB RAM
graphic card 64 MB (GeForce 3 Ti200 or better)
1.5 GB HDD
Windows 2000/XP/Vista